Beyond Meat

 announced that its
Beyond Breakfast Sausage

will be making its way to grocery stores throughout the United States by the end of

March to early April.
While WAN has reported that versions of the plant-based sausage have been offered in quick service restaurants such as Carl's Jr. and Dunkin', and now Starbucks, this marks the launch of the new classic and spicy Beyond Breakfast Sausages in retail stores throughout the United States.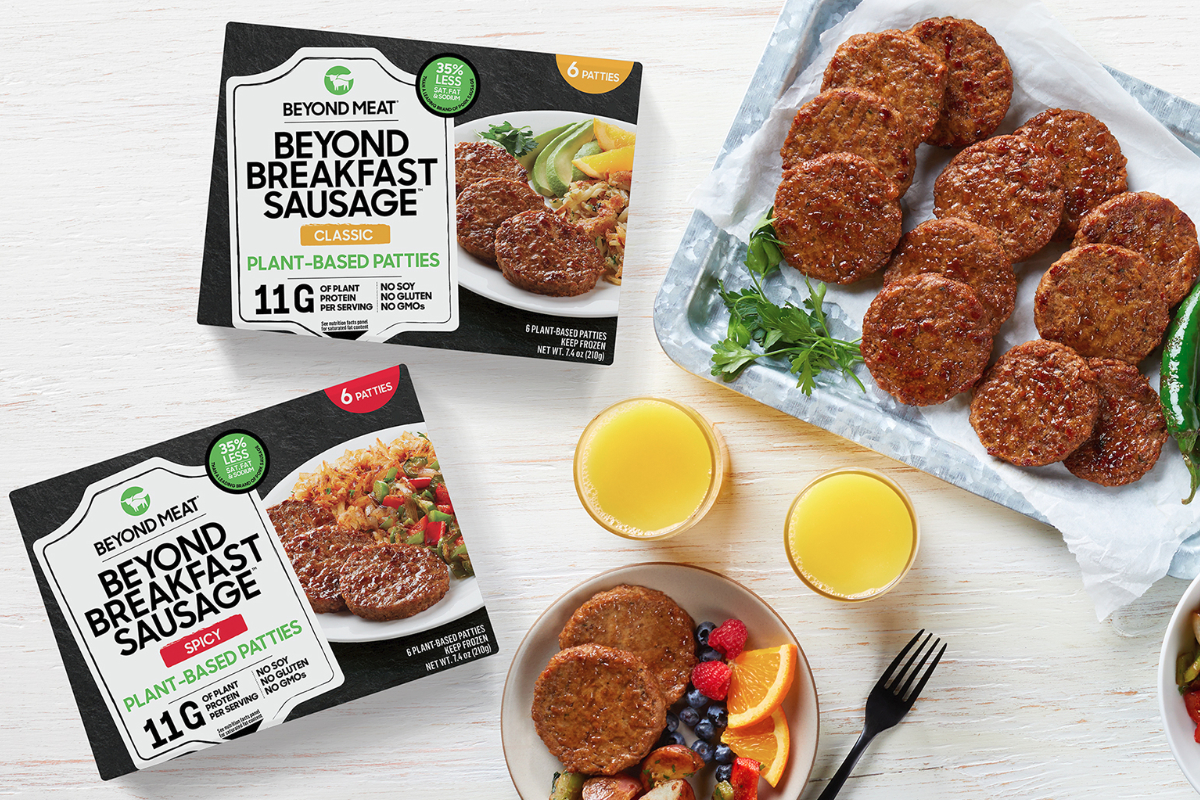 "Our Beyond Breakfast Sausage platform delivers on our promise of enabling consumers to 'Eat What You Love' while advancing health, environmental, and animal welfare benefits," Ethan Brown, Beyond Meat's Founder and CEO said in a statement.
"It has seen early success at some of the most popular and iconic quick service restaurants and we are excited to introduce the first extension of the platform in retail stores. It has been a staple in my own household and I am glad that families can now enjoy this delicious breakfast option at home," continued Brown.
To mark this culinary moment, Beyond Meat partnered with the ultimate lifestyle expert, Martha Stewart, to create two delicious recipes with Beyond Breakfast Sausage: the Classic Beyond Breakfast Sausage frittata with spinach and sweet onions, and the Spicy Beyond Breakfast Sausage and grits with roasted tomatoes.
"Beyond Meat offers a better-for-you plant-based option to animal protein for people who are looking to change or expand their diets. I think it is important to start the conversation around such plant-based diets," stated Martha Stewart. "Reducing our meat consumption as we move toward the future, is yet another important step in curing the environmental problems facing the world we live in."
Beyond Breakfast Sausage is made from simple, plant-based ingredients, like peas, brown rice, and beets, without GMOs, soy, gluten or artificially produced ingredients.
Compared to the leading brand of pork sausage patties, Beyond Breakfast Sausage offers:
More protein and iron, with 11 grams of protein per serving

50% less total fat

35% less saturated fat and sodium

33% fewer calories

No cholesterol, nitrates, nitrites, antibiotics or hormones
Beyond Breakfast Sausage

 will be available at select retailers including:

ACME, Albertsons, Key Foods, Kings, Pavilions, Raley's, ShopRite, Vons, Wegmans, and Whole Foods Market.
You can find

Beyond Breakfast Sausage

in the premium breakfast meat section of the frozen aisle.