Photos from Dr. Matviichuk and supplied by In Defense of Animals
In the midst of the unfathomable chaos, destruction, and heartbreak that is currently taking place in Ukraine due to Russia's brutal attack on the country, countless heroes emerge. Among them is Ukrainian veterinarian Vladyslav Matviichuk D.V.M., who has bravely chosen to stay to help and provide critical support and care to the animal victims suffering amidst the conflict.
In Defense of Animals (IDA) has provided Matviichuk with 

$5,000 USD

to help address his shortage of medicine and equipment. They are continuing to raise funds to provide additional assistance to Ukrainians helping animals and shared with WAN Dr. Matviichuk's harrowing situation.
WAN

and Peace 4 Animals

are 

making a matching 

$5,000 USD 

donation to In Defense of Animals that will be forwarded to help Dr. Matviichuk continue his life-saving work.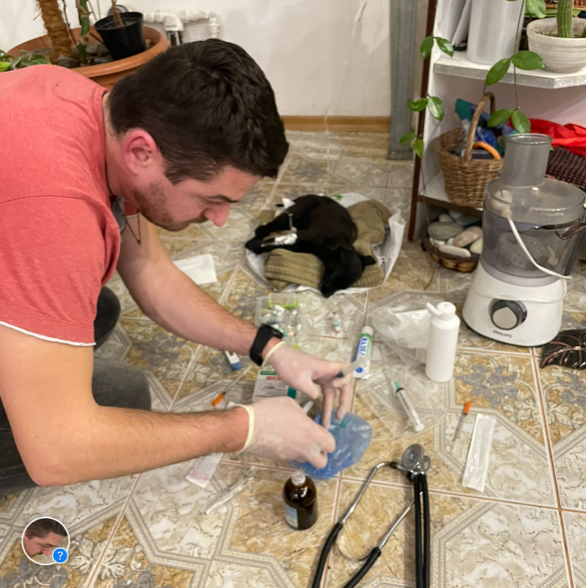 WAN connected with Fleur Dawes, Communications Director at In Defense of Animals, who explained that Dr. Matviichuk reached out to IDA via email requesting support. Dawes then communicated with him and his small team in a powerful

video.
"Everyone at In Defense of Animals is deeply inspired by their efforts, commitment, and resilience in helping animals overcome the odds in the most challenging of times," Dawes told WAN.

Dr. Matviichuk, who was forced to evacuate his own home along with his wife Iryna and their two rescued cats, is now operating on animals in the kitchen of his parents' home. Iryna provides postoperative care to the animals. A lack of supplies has forced her to cut up bedsheets to make bandages for animal care.
"Many animals suffer from explosions, missiles, and tanks. Many animals became homeless. Veterinary clinics are destroyed or closed. It is a very big problem to buy food and medicine for animals today," stated Matviichuk. "I try to help everyone. I treat and operate at home, take calls, consult online, by phone, by video, if it is not possible to help animals offline. Unfortunately, my resources are currently running out."
Despite the challenges and risks to his own safety, Dr. Matviichuk is still providing veterinary care to animals free of charge.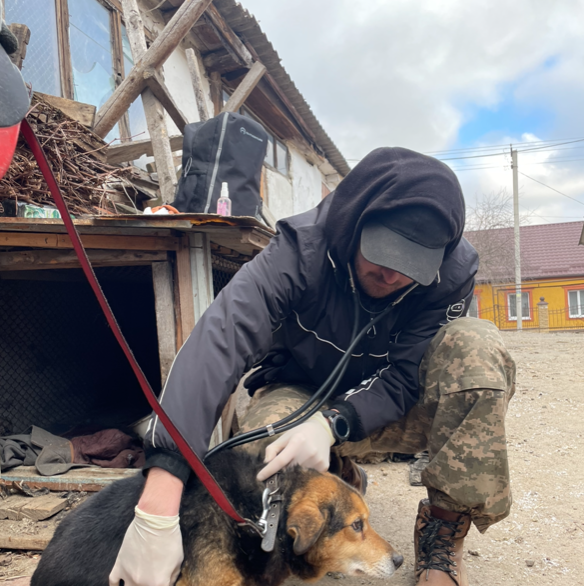 "In Defense of Animals is proud to partner with Dr. Matviichuk who heroically stepped up to serve the animals of his country. He had been treating animals at his own expense until his funds and medical supplies ran out. In Defense of Animals immediately rushed some desperately-needed emergency funds to Dr. Matviichuk when he reached out for support so that his small team can continue providing lifesaving veterinary care for war-torn animals in Ukraine. But, the scale of the fighting is immense and the need is so great," Dawes told WAN. "Please consider making a donation now to provide veterinary supplies, food, water, and heat for animals, the innocent victims of the war in Ukraine."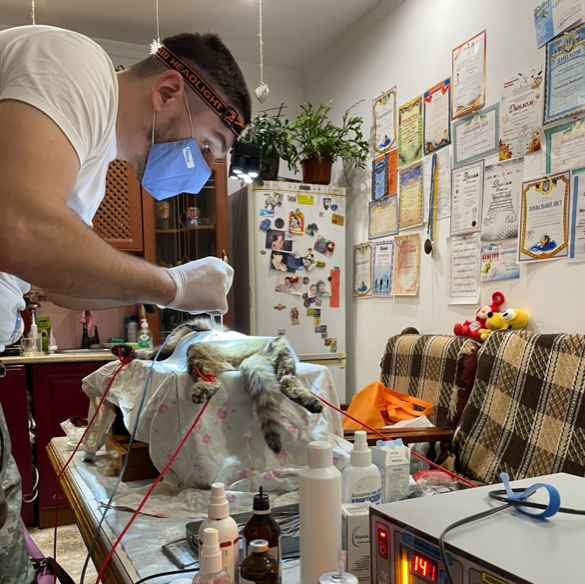 Dawes provided WAN with an exclusive link for people to donate to the organization so that 

In Defense of Animals

can continue to collect and disburse funds to individuals like Dr. Matviichuk and groups working on the ground to aid animals affected by Russia's military invasion of Ukraine, which continues to harm, kill, and displace untold numbers of animals. Please consider donating, HERE!