Photo by Sea Shepherd
Last week, Hong Kong Customs seized about 14.4 kilograms of suspected dried totoaba fish maws at Hong Kong International Airport with an estimated market value of about $3.2 million. This equates to approximately $423,100 in the

United States.
Through risk assessment on July 26th, Customs inspected an air consignment, declared to be carrying dried fish fillets, arriving from

Mexico

en route to

Vietnam

via

Hong Kong.

Upon examination, Customs officers found the batch of suspected dried totoaba fish maws loaded with non-scheduled dried fish fillets inside two cartons.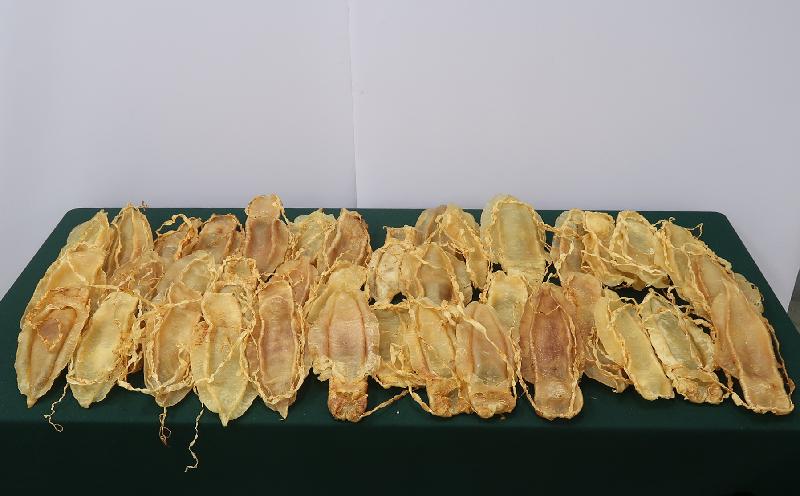 As previously reported by WAN, the totoaba is an endangered fish native to the waters of Mexico and protected under international law. Poachers, however, continue to catch totoabas for their swim bladders, which are falsely thought to have medicinal purposes in Asia.
Totoaba poaching is also the primary cause of the demise of the world's most critically endangered marine mammal, the 

vaquita

porpoise. 

Existing only in a small region in Mexico's Upper Gulf of California, there are tragically only

10 vaquita

remaining on earth.
While Mexican law prohibits totoaba fishing, and trading in totoaba is banned under the Convention on International Trade in Endangered Species (CITES).

T
he t

otoaba is considered an endangered species and sadly Mexico has repeatedly failed to enforce these bans.
Under

Hong Kong's

Protection of Endangered Species of Animals and Plants Ordinance, any person found guilty of importing or exporting an endangered species without a licence is liable to a maximum fine of

$10 million

and imprisonment for

10 years.
"With the recent reduction in air passenger traffic, Customs will continue to step up enforcement against trafficking activities involving prohibited and controlled items through air cargo, postal parcel, and express courier channels," Customs noted in a statement on its website.
Members of the public may report any suspected smuggling activities to

Hong Kong Customs'

24-hour hotline

2545 6182

or its dedicated crime-reporting email account

crimereport@customs.gov.hk.
You can help all animals and our planet by choosing compassion on your plate and in your glass. 

#GoVeg