Two billboards addressing Kansas Governor Laura Kelly were launched on September 9th near the governor's office at the state capitol. The billboards, which urge state officials to shut down slaughterhouses and promote a plant-based diet, were sponsored by the Physicians Committee for Responsible Medicine.
The billboards confront the governor with the message, "Governor Kelly: Can Kansas Switch to a Safer Food Supply Like Sunflowers Over Swine? PromotePlantProtein.org!"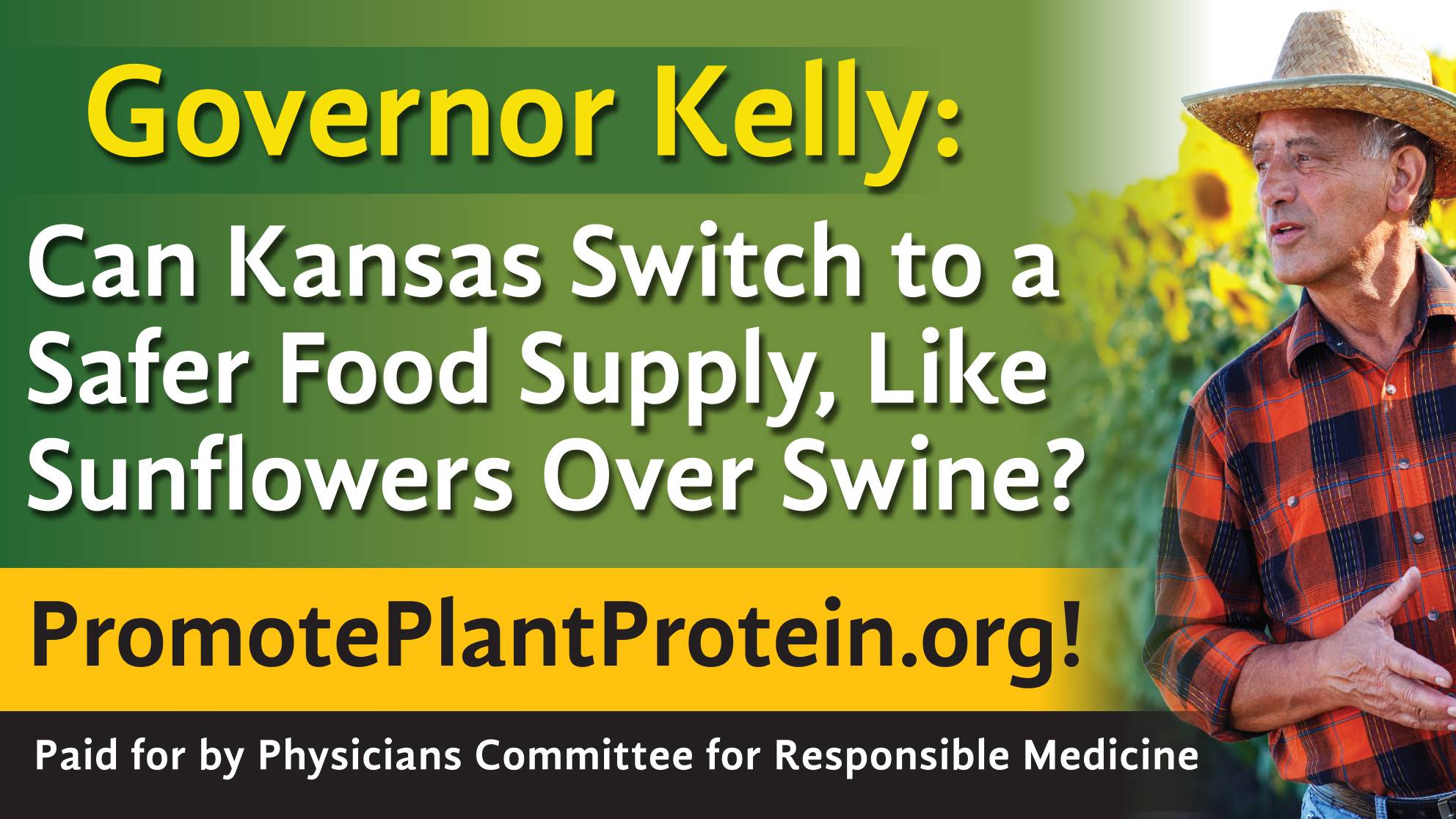 Sunflowers are a profitable crop in Kansas and there are several facilities in western Kansas that process the seeds for oil, butter, and roasting.
Physicians Committee for Responsible Medicine also filed a complaint on September 8th with the head of the Kansas Department of Health and Environment,

Lee Norman.

The complaint 

stated that any slaughterhouses experiencing new coronavirus cases should be shut down immediately. The complaint argues that meatpacking facilities should be replaced with cleaner, safer facilities that produce plant-based protein.
The current public health emergency highlights the need to transition the food production system away from animal agriculture. This is especially urgent since meat products increase the risk of chronic diseases. Studies indicate that affordable, plant-based options can help people prevent and even reverse diabetes, heart disease, and high blood pressure, among other conditions.
"The transition to plant-based protein is already underway, driven by consumer demand, but this health-promoting trend needs the support and assistance of government," Susan Levin, MS, RD, Director of Nutrition Education for Physicians Committee, said in a statement. "With incentives from the state, farmers could increase acreage of sunflowers, pinto beans, and other high-protein crops while decreasing livestock production."
In response to the popularity of plant-based protein products, large meat processors are launching plant-based nuggets and other products. Meanwhile, facilities that produce traditional meat products have been hotspots for coronavirus infections.
The Kansas Department of Health and Environment reportedly stated that as of September 7th, there are nine active outbreaks associated with meatpacking facilities, accounting for over 2,000 cases.
By contrast, plant-based protein manufacturer, Impossible Foods, reports zero coronavirus cases at its facility in Oakland, California.