Animals Asia has rescued

four moon bears,

also known as 

Asiatic Black Bears, 

from the 

Hanoi Central Circus 

in

Hanoi, Vietnam.

As a sign of a remarkable change in attitudes toward the use of wild animals in entertainment in the country, the last of the circus' performing bears were voluntarily released to the organization which is now caring for them. 

Thanks to ongoing dialogue with the Animals Asia Captive Animal Welfare team, the circus finally decided to phase out wildlife performances in their shows completely.
The recently rescued bears arrived at Animal Asia's sanctuary in

Tam Dao

on

Tuesday, June 15th. 

Upon their arrival, an expert team of vets and bear care givers greeted them and did their preliminary health checks.
"Looking at the footage of the bears being forced to perform at the circus, it's impossible not to feel how terrifying that would have been for them. Blaring music, strobing lights; it couldn't possibly be more different from the serenity of a forest," Heidi Quine, Bear and Vet Team Director at the organization's Vietnam sanctuary, told WAN. 

"So when that rescue truck rolled into the sanctuary with Saffron, Chilli, Gừng, and Tiêu, it was hard for me to hold back tears. At the time, I wished I could tell them just how much better things were going to be for them, although I like to think they somehow knew."
As noted by 
Quine, 
Animals Asia is making the extraordinary progress in Vietnam and this marks yet "another step forward towards a kinder world for animals." 
The news comes after WAN reported that Animals Asia recently transported 101

Asiatic black bears

that were 
saved 
from bear bile farms in 
China
to their new home in

 
Chengdu.
At 

Animals Asia's Vietnam Bear Rescue Center,

which 

is currently home to

186 bears,

 the newly rescued animals will enjoy various fresh foods tailored to their specific needs and tastes. They will experience a whole new world of toys and enrichment items such as hammocks, hessian sacks, and pools, at the sanctuary's semi-natural outdoor enclosure space designed to stimulate the bears' natural behaviors. The on-site hospital and laboratory facilities will provide the bears with the

best possible chance of recovery.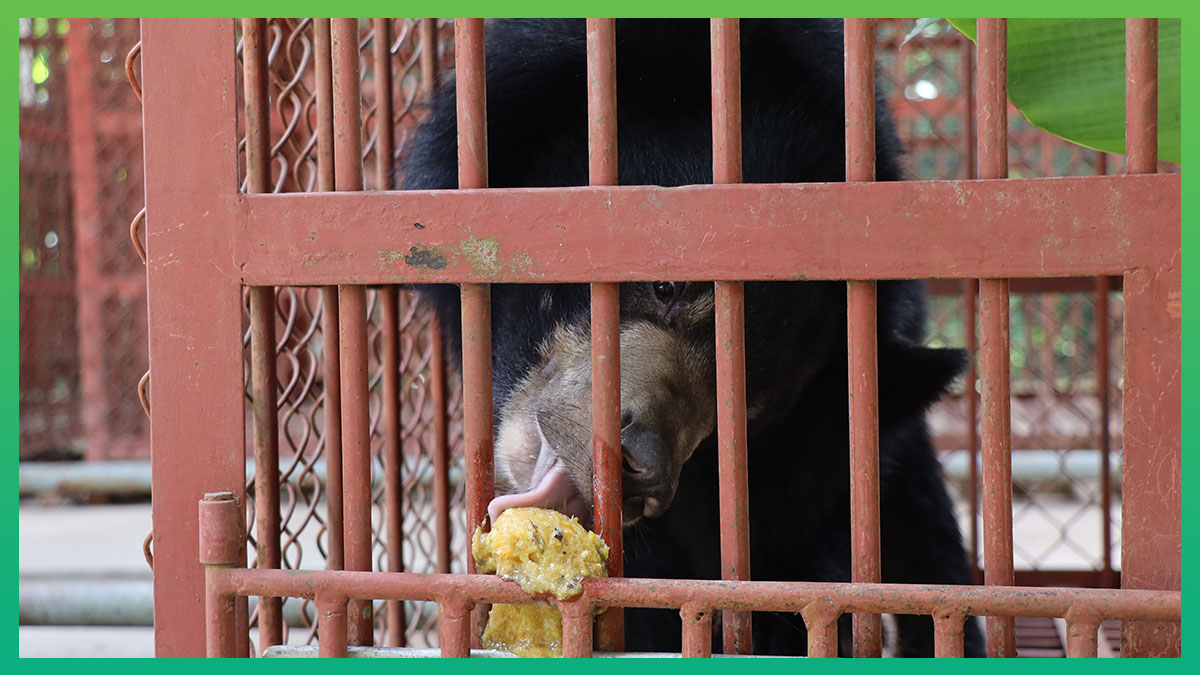 This is the second time Animals Asia has rescued bears from

Hanoi Central Circus.

In 2019, the organization campaigned for the release of two female cubs that were captured illegally and included in the circus' performances. After the bears were given to the organization, the Animals Asia team named them

"Sugar"

and "Spice" because of their lively character and the joy they brought to the sanctuary.
With this rescue, "Sugar" and "Spice" welcomed "

Chili,"

"Saffron," "

Tiêu," and "Gừng," after two years of separation.
Animals Asia has been campaigning for an end to wild animal performances in Asia since early 2014. In

2017,

the organization published a

report

on the adverse psychological and physical effects that performing has on wild animals.

The report highlighted

hundreds of wild animals,

 including

endangered species,

 that were forced to perform at zoos and circuses across

Vietnam.

This prompted the Vietnam Ministry of Culture

,

the government body responsible for entertainment, to instruct circuses to stop using wild animals in their shows. Since then,

15 circuses

across the country have stopped using wild animals altogether and many more have phased out their use of wild species.
"Attitudes in Vietnam are changing," Tuan Bendixsen, Animals Asia's Vietnam Director explained. "Schools are starting to refuse to attend circuses that use wild animals, and over

32,000

Vietnamese people have signed Animals Asia's petition to end the use of wild animals in entertainment. This is a direct result of their tenacious yet collaborative approach to

working with authorities and communities. As they have seen time and time again, the only cure for so many of the things we want to change in the world, is kindness."
You can help all animals and our planet by choosing compassion on your plate and in your glass. 

#GoVeg