In Defense of Animals has joined forces with world-renowned animal advocate and comedian Ricky Gervais to educate shoppers about the true cost of fur and to encourage major retailers to ban fur sales for Fur Free Friday on

November 27th.
In Defense of Animals has been fighting against the fur trade since the 80's, and helped create the longest-running animal protection demonstration in the world. Fur Free Friday events take place every year on Black Friday, the busiest shopping day of the year. Animal advocates come together to help educate the public about the fur industry and the animals it harms in the wild and on fur farms. This important campaign calls for an end to the cruelty inherent in the fur industry.
This year, due to COVID-19 concerns and restrictions, In Defense of Animals has coordinated a virtual Fur Free Friday event with the help of comedian and animal advocate Ricky Gervais, who stands in solidarity against the brutal deaths of innocent animals for their fur.
"If you buy fur then you buy cruelty," Ricky Gervais said in a statement sent to WAN. "Beautiful, innocent, intelligent animals, tortured to death for fashion. Shame on you. Disgusting. I stand with In Defense of Animals against the cruel fur trade."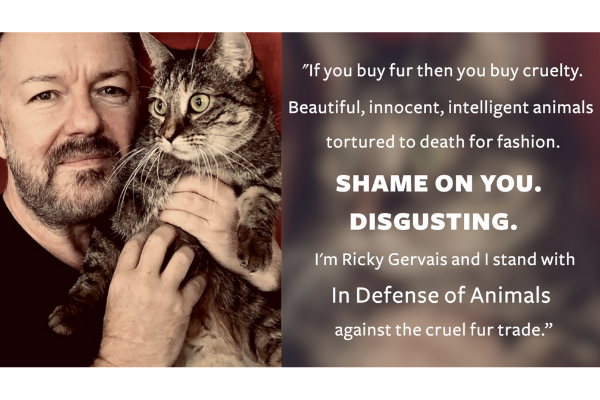 Tens of thousands of minks on fur farms in the

United States

have died after contracting COVID-19. Millions of minks continue to be slaughtered on fur farms in

Denmark

and around the world after mink and fur farm workers tested positive for the virus.
Within the last several years, fur bans have been enacted in

San Francisco, West Hollywood, and Los Angeles.

In

October 2019, 

In Defense of Animals and its allies celebrated a ground-breaking victory when

California became the first state in the country to ban fur sales and fur trapping.
The list of designers and companies ditching fur in favor of ethical alternatives continues to grow, and now includes many major retailers such as: Coach, Gucci, Michael Kors, Macy's, Nordstrom,

and more.
For

Fur Free Friday 2020,

 In Defense of Animals is calling on its international supporters to urge 

Saks Fifth Avenue 

and 

Neiman Marcus

to 

go Fur Free through its new video campaign.
"Join this year's virtual 

Fur Free Friday 

efforts by urging Saks Fifth Avenue 

and

 Neiman Marcus to ditch animal fur for good," stated Julie Massa, Fur Campaigner for In Defense of Animals.
Animal advocates are urged to share this simple message on social media and tag 

@saks

and @neimanmarcus:

"

F

ur is cruel. Fur is outdated. Fur is ugly. Please ditch animal fur and commit to offering faux fur only!"
In Defense of Animals 

also

 has numerous petitions against the fur trade that can be signed, HERE!