Snoop Dogg is continuing his enthusiastic promotion of plant-based pioneer Beyond Meat, once again collaborating with Dunkin' by shining the spotlight on one of its most significant menu introductions in brand history,
The
Beyond Sausage Sandwich.
Snoop, Beyond Meat's Ambassador, who initially teamed with Dunkin' in November to help launch the Beyond Sausage Sandwich, is now touting a Snoop-inspired limited-time only version of the sandwich; the
Beyond D-O-Double G Sandwich 

which is served on a sliced glazed donut.
"When I got the chance to work at Dunkin' for the Beyond Sausage Sandwich launch, I got to thinking about what other Beyond Meat sandwiches we could create," Snoop said in a statement. "Being around my favorite glazed donuts got me inspired, so now we are dropping The
Beyond D-O-Double G Sandwich

at Dunkin' restaurants nationwide."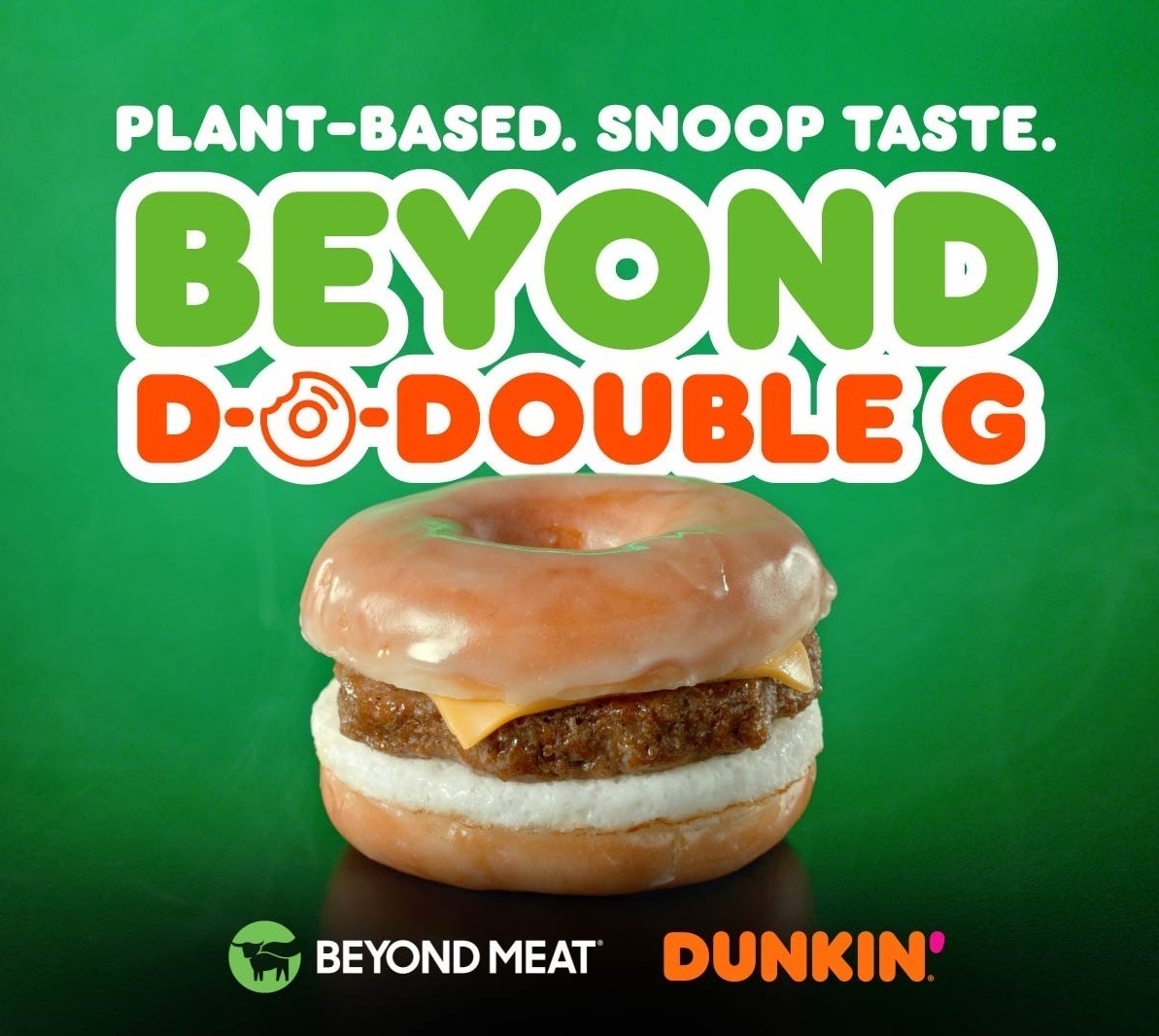 The sweet and savory Beyond D-O-Double G Sandwich is available at the front counter or drive-thru at participating Dunkin' shops throughout the United States now through January 19th.
Offering the delicious taste and texture of a juicy, savory breakfast sausage patty, Dunkin's Beyond Sausage Sandwich features Beyond Meat's breakfast sausage patty made with
100% plant-based protein

and a mix of spices crafted specifically for Dunkin'. Ounce-for-ounce, compared to a traditional pork breakfast sausage patty, the Beyond Breakfast Sausage patty at Dunkin' has more protein and iron, 44% less saturated fat, 50% less total fat, 37% less sodium and no cholesterol
On 

January 24th and 25th,

Dunkin' is also inviting America to its Beyond Bash where guests at participating Dunkin' restaurants can enjoy a free sample of the Beyond Sausage Sandwich, served from

8:00am to 10:00am

each day while supplies last.
You can help all animals and our planet by choosing compassion on your plate and in your glass. 

#GoVeg