Photos By: Ishaqbini Hirola Conservancy
It is with great sadness that WAN reports the tragic and senseless killing of two extremely
rare white giraffes,

a mother and her calf, in

north-eastern Kenya.

 Based on images sent in by the local community, the giraffes were found in a skeletal state after being killed by armed poachers.
The

 Ishaqbini Hirola Community Conservancy's manager, Mohammed Ahmednoor, said in a statement on Tuesday, "This is a very sad day for the community of Ijara and Kenya as a whole. We are the only community in the world who are custodians of the white giraffe. The killings are a blow to the tremendous steps taken by the community to conserve rare and unique species, and a wakeup call for continued support for conservation efforts."
After its discovery in
2017,

the female white giraffe made headlines for its unique white hide. It is white but not albino, because of a condition known as leucism.
Unlike albinism, animals with leucism continue to produce dark pigment in their soft tissue, thus her eyes were dark in color.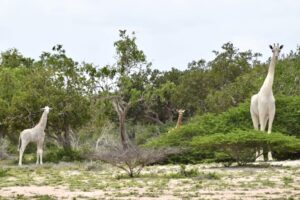 "I'm heartbroken and have no words," said Raabia Hawa, Founder of Walk With Rangers in a statement to WAN. "This should serve as a wake up call for all of us, elephant poaching may have been reduced, but that shouldn't mean we ignore other species," continued Hawa.
"These two giraffes have made the news because they were rare, but giraffes and other species of wildlife are poached on a daily basis and we have to continue our efforts to protect them all, they are all vital for the survival of our ecosystem. Bushmeat poaching is a major and often ignored issue," concluded Hawa.
Last year, Northern Rangelands Trust announced that the female white giraffe had given birth to a male white calf, bringing the total to three white giraffes in the country. Sadly, after this tragic incident, only a lone bull remains.
"This is a long term loss given that genetics studies and research which were a significant investment to the area by researchers, has now gone down the drain. Further to this, the white giraffe was a big boost to tourism in the area," continued Ahmednoor.
The poachers have not been identified and their motive for killing the pair of rare white giraffes is not yet known.
The

Kenya Wildlife Service, the main conservation body in the East African state, said it is investigating the killings.
Justice Must Be Served!
You can help all animals and our planet by choosing compassion on your plate and in your glass. 

#GoVeg