A holiday miracle occurred early this month, when a feral mama cat, now named Brenda, was reunited with one of her kittens, Brandon, after being hundreds of miles away from each other for weeks. From heart-wrenching to heartwarming, this story serves as a reminder that the lives of all animals' matter and that every person in this world can make a difference.
Previously referred to as "the desert cats," the feral cats' harrowing adventure began after being found on the construction site of a new solar project that was being built in Daggett, California, a small 200-resident town 10 miles east of Barstow. Teresita Araujo, the company's electrical foreman, began caring for the cats, feeding them, and having her compassionate crew make them a house out of an old ice chest. There were some problems as expected in a situation like this, but the most immanent one was that as the holidays were approaching, everyone would be leaving, except for the feral cat family.
After being trapped and relocated separately within a period of three weeks, the cats are now settling into their new forever home more than 200 miles away at The Cat House on the Kings. Home to more than 700 felines, the rescue is California's largest no-cage, no-kill, lifetime cat sanctuary and adoption center.
Los Angeles-based animal activist Simone Reyes was instrumental in coordinating and facilitating the rescue and rehoming Brenda and Brandon after being altered to the situation. The first attempt to trap both cats resulted in only securing the kitten as the mama cat ran away before eventually being trapped herself weeks later. While the chances of trapping feral cats and relocating them somewhere where they could live with one another safely for the balance of the lives seemed nearly impossible, miraculously, it happened. This is a tremendous win in an increasing battle to save the lives of feral cats.

"It is estimated that in the United States there are over seventy million feral cats. There are kind citizens who do their best to Trap-Neuter-Return (TNR), feed, and provide shelter for many. Sadly, when there is no long-term caregiver to provide for them, as in this case, options to help feral cats are unfortunately abysmal," Reyes told WAN, calling The Cat House on the Kings 'true heroes for felines in need.' "Saving this mom and son may be small in the big picture, but for these two souls, it is everything."
While the number of feral cats in California remains unknown, the fact that there are an estimated one to three million in Los Angeles alone, demonstrates the severity of this issue and the need for it to be handled in a way that saves the lives of these animals. Sadly, due to numerous reasons ranging from lack of laws to protect them to misinformation about how to best handle them, feral cats remain a sensitive topic for many.
After following the story as it has unfolded, WAN is thrilled to share this exclusive update on mama feral cat Brenda and her kitten Brandon. Brenda and Brandon, who is estimated to be about seven months old, have since been spayed and neutered respectively.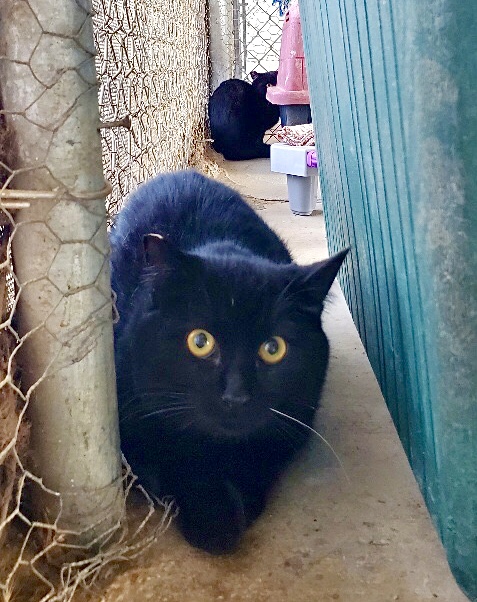 "Brandon seems happy to have his mother back and is certainly comforted by her presence, but he does completely take her cues and since she is on high alert, he remains so as well. She has taught him to hide and be fearful of people so he will abide by her rules for now, but hopefully will relax as they realize they are safe and sound," Beth Caffrey, who handles the donor and media relations for the sanctuary, explained to WAN.
According to Caffrey, Brenda and Brandon are now together in the same expanded kennel area while they are in 30-day quarantine. Following that, the cats will be released onto the sanctuary grounds where they can get used to the main house and the other cats. There are many options for comfort at the sanctuary including little houses and cottages for the cats to sleep in.

"We have several areas that are favored by feral cats, with comforts added to keep them warm in the winter and cool in the summer. They will have a 12-acre area, housing, food, and bedding to choose from to feel safe and enjoy life," continued Caffrey. "Brenda will probably remain protective of her kitten and give him the cues to hide, possibly even after they are released. Then, she will most likely pick an area of the sanctuary that she prefers, and they may keep to themselves until they feel comfortable enough in their new surroundings. Many 'ferals' loose or change some of their defensive or protective behaviors once they realize that they are in kitty heaven on earth."
While Brenda and Brandon will remain permanent residents of the remarkable sanctuary, The Cat House on the Kings also helps with the adoption of mostly cats, as well as some dogs and other rescued animals into safe and loving homes. The organization also offers low cost spay and neuter referrals.
Please consider donating to The Cat House on the Kings so that the organization can continue their lifesaving work caring for hundreds of cats and kittens in need each year. Ways that you can help are available HERE!
You can help all animals and our planet by choosing compassion on your plate and in your glass. 

#GoVeg