A heartwarming reunion of a baby fox with his mother occurred last week in

Arlington, Virginia,

after the youngster, believed to be between three to five weeks old, was found alone crying in the garden of a compassionate homeowner.
WAN had the opportunity to connect with Animal League Of Arlington (AWLA) which received the concerned resident's call. Sergeant Cliff Ballena, along with Officer Elpers, responded to the call and came to the rescue.
Ballena explained that they receive calls like this fairly often because foxes prefer to keep their babies under sheds and patios in urban environments. They now believe that the baby fox was temporarily left by his mother while she was relocating her family to a new den.
"The baby still had a full tummy and was not dehydrated. He was walking, alert and normal," Ballena told WAN. "Since he was a healthy baby, we knew the mom was still around and that she would most-likely come back for her kit."
After assessing the situation and the health of the baby fox, they decided to leave him in a basket so that his mother could easily retrieve him from a safe location in the yard.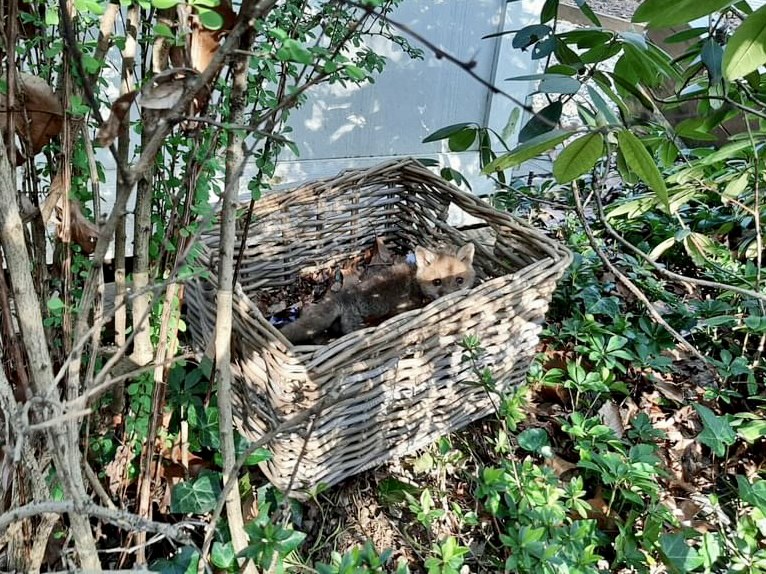 "When trying to reunite wildlife, you want to make the animal visible for the mother to find it, but also make sure that the baby stays warm," continued Ballena. "The baby could have been placed in the box, but we definitely wanted something that the mom could reach and that the baby could not climb out of. We made sure the location of the basket was safe. If the fox was found in the middle of the street, that would be a different story."
When asked about how the homeowners knew how to handle the fox, Ballena responded with "They didn't. They followed our directions and did not touch him. Our officers are trained to handle wildlife. We use gloves and towels. People should never handle wildlife with bare hands in case of zoonotic disease."
Sergeant Ballena's advice to anyone who finds a baby fox or other animal in their yard is to do what these homeowners did. "Please give us a call first and get advice or call your local animal control or rehabber," stated Ballena, who further noted that people should not touch or feed any wildlife they find.
"They called us right away," the

Animal League of Arlington

shared in a post on its Facebook page. "The homeowner kept an eye on him the rest of the day, and we are happy to report that by the next morning, the mother had safely retrieved her baby!"
"Being able to reunite a baby fox with his mom is always best," said Ballena, noting that baby animals grow up so much faster and healthier when with their mothers. "Most wild animals will come back for their babies, except opossums. If you ever find a baby opossum, please give us a call!"
"We rescue all kinds of wildlife all the time," concluded Ballena, who recalls saving a deer that fell into a window well of a church and an owl stuck in a children's school among some of the organization's most unusual rescues.
WAN is pleased to share positive stories of responsible rescues such as this one, educating people about what they should and should not do if they find wildlife that is in need of help. 
Please consider making a donation to the

Animal League of Arlington

so that they may continue their important work and save more wildlife in need. Donations can be made HERE!
You can help all animals and our planet by choosing compassion on your plate and in your glass. 

#GoVeg