Photos from Peter Witt, U.S. Fish and Wildlife Facebook page
A bat falcon, a large bird that is found in Mexico, Trinidad, and Central America, has made an appearance in the United States for the first time in recorded history. The small bird of prey was first spotted in December of 2021 near the Texas-Mexico border at the Santa Ana National Wildlife Refuge.
"It is the first time the bat falcon has ever been observed in the United States. Bat falcons are known to breed in the tropics of Mexico, Central and South America, and Trinidad," confirmed a post on the Santa Ana NWR Facebook page.
Julio Gallardo with the OSU · Department of Fisheries and Wildlife stated that the bat falcon seen at the refuge is thought to be a juvenile based on its buff-cinnamon throat and chest bars. The thickness of the bird's tarsus and beak indicate that it is most-likely a male.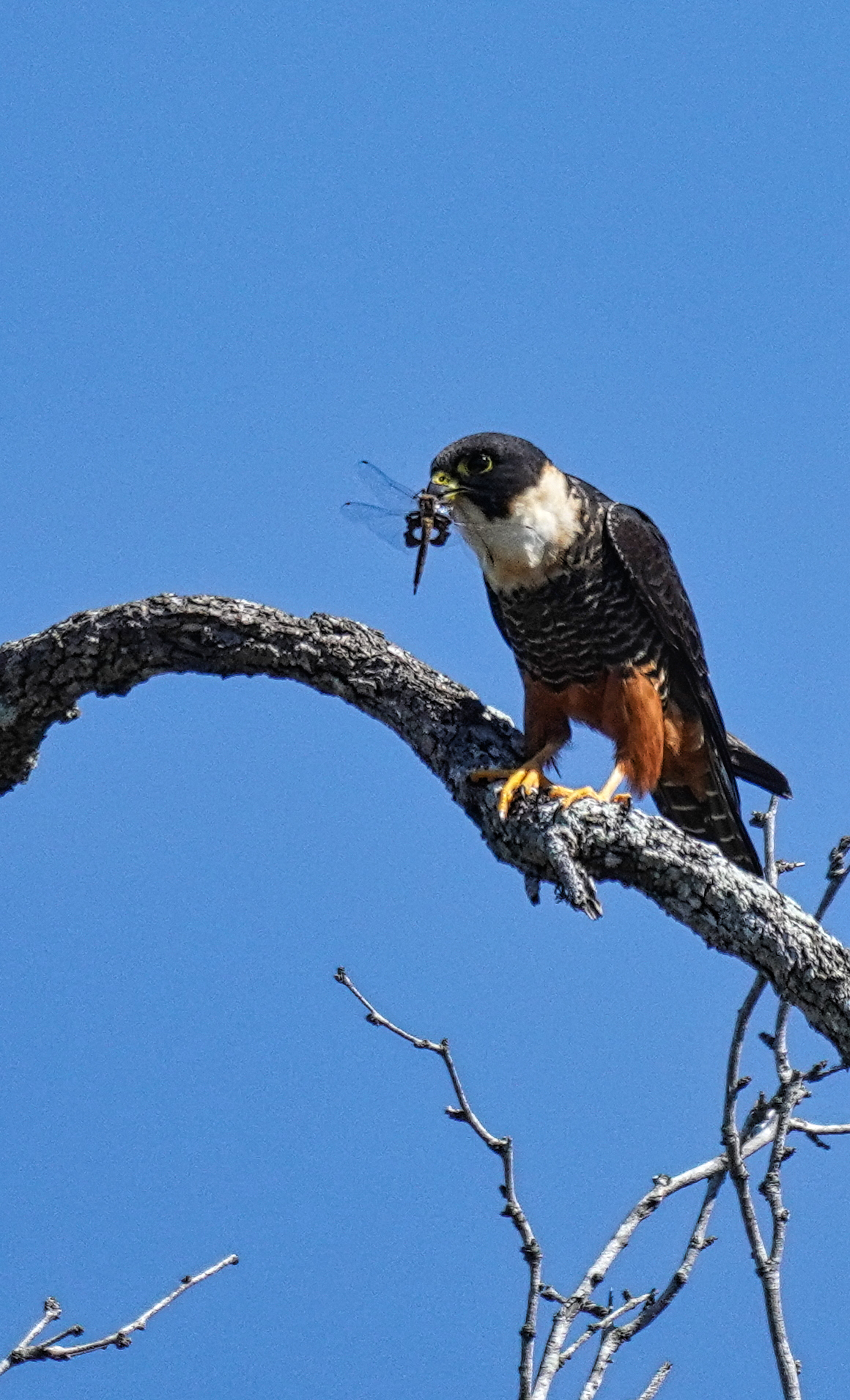 Adult bat falcons have a black back, head, and tail. Their throat, upper breast, and sides of their neck are white, while the lower breast and belly are black with finely barred white. Their thighs and lower belly are orange. Female bat falcons are reportedly much larger than the males. Bat falcons hunt bats at dusk, but their main food consists of small birds caught in flight.
According to the Santa Ana NWR, the mass of this bird ranges between 4.8-8.5 oz. The bat falcon has since been spotted numerous times including at least twice this month.
On February 17th, Santa Ana NWR shared on social media that, "The bat falcon enjoys posing for the camera and our visitors. It loves to eat at the wetlands on Cattail Lakes."
Meanwhile, the

U.S. Fish and Wildlife Service

posted the news with images taken by Peter Witt on its Facebook page. "Everyone that can catch a glimpse is looking at this bat falcon right now," noted the U.S. Fish and Wildlife Service.
WAN and Peace 4 Animals are thrilled that this amazing falcon species has been spotted for the first time in the United States. This means that their populations are healthy, growing, and migrating. We hope to see many more bat falcons in the near future thriving. We must work to protect their natural habitat and rewild the earth once again.
You can help all animals and our planet by choosing compassion on your plate and in your glass. 

#GoVeg