A baby orangutan, now named Bomban, was recently rescued by the

Wildlife Rescue Unit (WRU) of the Natural Resources Conservation Agency

(BKSDA)

and International Animal Rescue (IAR) Indonesia. The rescue team removed Bomban from the village of Batu Lapis, Hulu Sungai District, Ketapang Regency.
The rescue operation was prompted by reports from local people that a baby orangutan was being kept illegally by a farmer. Following up on these reports, members of IAR's education team, who were in the village of Batu Lapis at the time, were able to verify the reports. The team tracked down the baby which had been given to some other farmers to look after. Since they knew it was illegal to keep an orangutan, the farmers immediately handed the infant over to IAR's team. The education team arranged for the baby orangutan to be cared for by a local villager until the arrival of the rescue team.
Sadly, Bomban had been kept captive for three months in a wooden cage measuring about 50x40cm. His poor diet consisted of rice, biscuits, cucumber, drinking water, and sweet condensed milk.
Estimated to be about one-year-old, Bomban was transported to IAR's Orangutan Rescue and Conservation Center in the village of Sungai Awan, Ketapang District, and placed in quarantine where he will remain for eight weeks. During that time, Bomban will undergo thorough examinations and receive any necessary medical treatment. He will also undergo regular tests to ensure that he is not carrying any diseases that could be transmitted to humans or to other orangutans in the center.
The results of an x-ray carried out by IAR's medical team have already confirmed that there are pellets from an air rifle lodged in Bomban's right thigh. Tragically, this strengthens the belief that his mother was killed by hunters in order to steal her baby.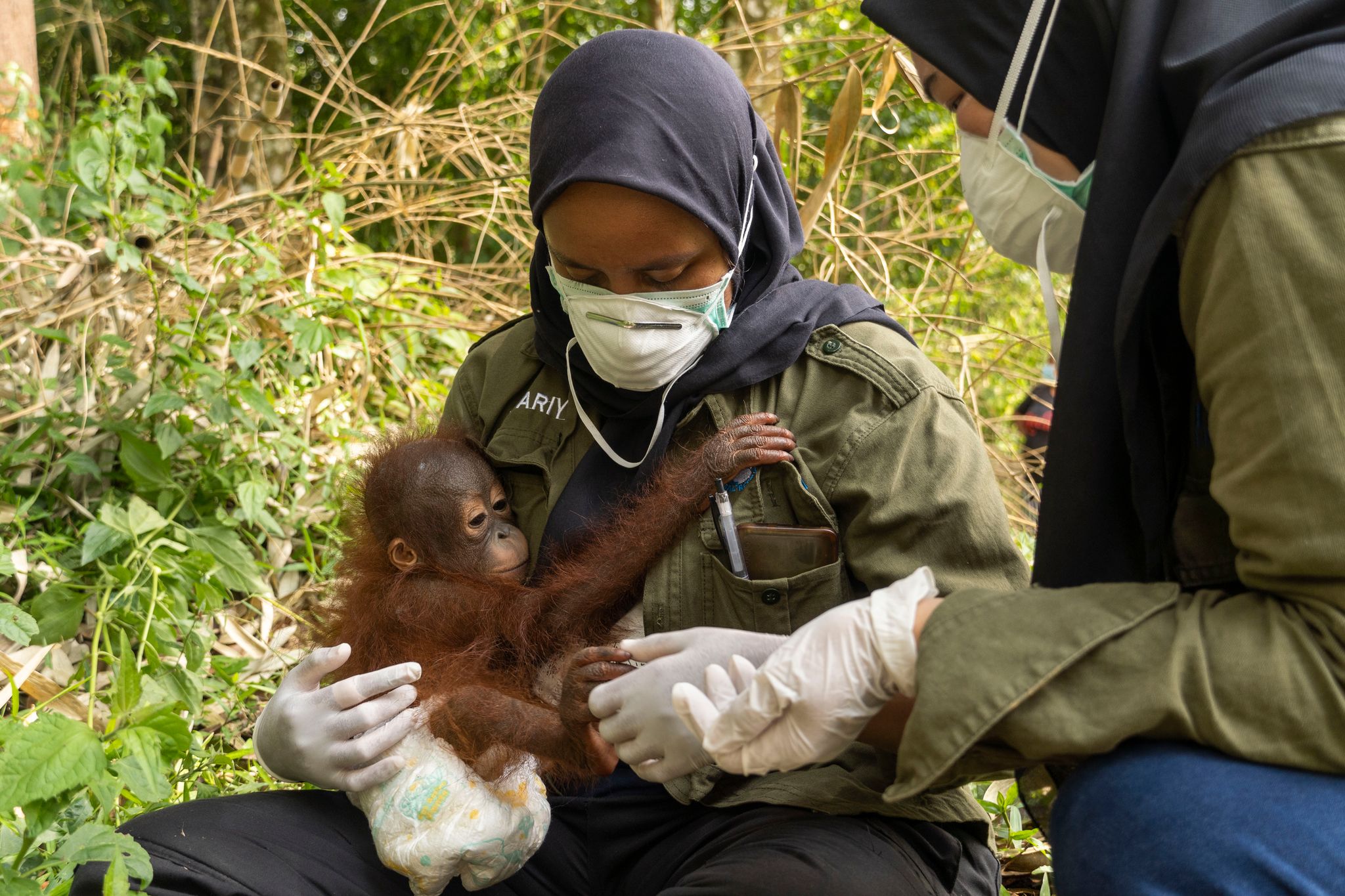 "Keeping orangutans as pets starts with hunting. Usually the mother orangutan is killed so that her baby can be taken. Our education team was working in the area where Bomban was being kept and they are clearly getting through to rural communities that it is illegal to keep an orangutan as a pet," the Director of Programs at IAR Indonesia, Karmele L Sanchez, said in a statement sent to WAN. "In instances where people are still ignorant about the law or choose to flout it, our rescue team is ready, alongside the BKSDA, to take action at any hour of the day or night and rescue captive orangutans like Bomban."
"It is very encouraging that local villagers knew to report this baby's existence so that he could be rescued and given a second chance to live wild and free. Once out of quarantine, he will begin a long period of rehabilitation to help him learn the skills his mother would have taught him during his formative years," noted Alan Knight OBE, IAR CEO. "At our Orangutan Conservation Center, we have 100 orangutans in our care, all at various stages of rehabilitation. When the time is right, Bomban will join them and that is when his journey back to the forest will begin."

You can help all animals and our planet by choosing compassion on your plate and in your glass. 

#GoVeg