Más Veggies Taqueria,

a

new virtual concept by Veggie Grill, launched this week, marks the first national Mexican restaurant offering all plant-based and planet-friendly food for delivery only. The virtual taqueria features an innovative menu in partnership with plant-based leader Beyond Meat and offers a range of crave-worthy tacos, burritos, bowls, and nachos, made entirely without animal products.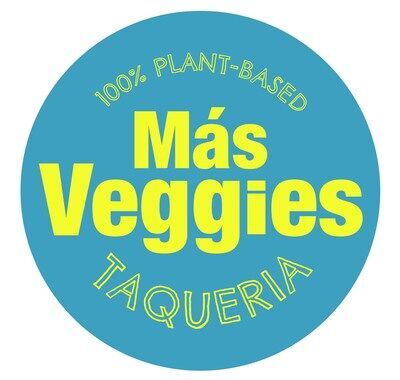 "Meet the newest member of the Veggie Grill family, Más Veggies Taqueria. A plant-based taqueria that brings amazing, and conscious, Mexican food straight from our kitchens to your home," notes a greeting on the Más Veggies Taqueria website. The new concept addresses the surging consumer demand for plant-based options and the current preference for convenient contactless delivery due to the ongoing COVID-19 pandemic.
Kajsa Alger

, Veggie Grill's VP of Food and Beverage and former Corporate Chef at Border Grill and Ciudad restaurants, helped Más Veggies Taqueria develop the creative menu that will be sure to satisfy those who crave Mexican food with a delicious, healthy, and sustainable twist. Menu offerings include: Crispy Poblano Chickin', Shredded Jackfruit Chipotle Carnitas, Cauliflower Asada, Savory Tex-Mex Taco Meat, and Crispy Baja Fish in the form of tacos, burritos, nachos, and bowls.
"Veggie Grill is the industry leader in plant-based restaurants and Más Veggies Taqueria is a natural next step for us to advance plant-based eating nationwide and bring a new and exciting experience straight to people's doorsteps," T.K. Pillan, Veggie Grill's Co-founder, said in a statement.

Pillan

explained that while more Americans are now being mindful of how they live, eat, and care for the planet, there is a lack of dedicated plant-based Mexican offerings. "As restaurants nationwide remain closed or are operating with drastically reduced seating capacity for safety reasons, Veggie Grill also seized the opportunity to explore alternative ways to reach these conscious foodies. The virtual Más Veggies Taqueria helps accelerate the plant-based movement while leveraging existing Veggie Grill kitchens nationwide."
Partnering with popular delivery platforms including

Doordash, Postmates, Uber Eats, and Grubhub,

Más Veggies Taqueria will run a delivery-only operation out of all Veggie Grill kitchens for lunch and dinner service, seven days a week. The virtual restaurants have launched in

Hollywood

,

Pasadena

, and Long Beach, in California, as well as 

Boston

, Massachusetts, 

New York City, New York

, and in

Downtown Seattle, Washington

. Other locations throughout 

Southern California

,

Portland, 

and

Seattle

will follow at the end of January.
You can help all animals and our planet by choosing compassion on your plate and in your glass. 

#GoVeg