A new 10-month PETA undercover investigation into underground
Quarter Horse

racing exposes widespread doping, the use of electric shock devices, fatal horse breakdowns, and jockey injuries and death. In addition, they also exposed hundreds of thousands of dollars in illegal gambling at

Rancho El Centenario, 

the largest black market track, or "bush track," in

Georgia.
PETA has now filed complaints with federal, state, and local authorities calling for criminal investigations into these and other acts that appear to violate numerous laws, including Georgia's Humane Care for Equines Act.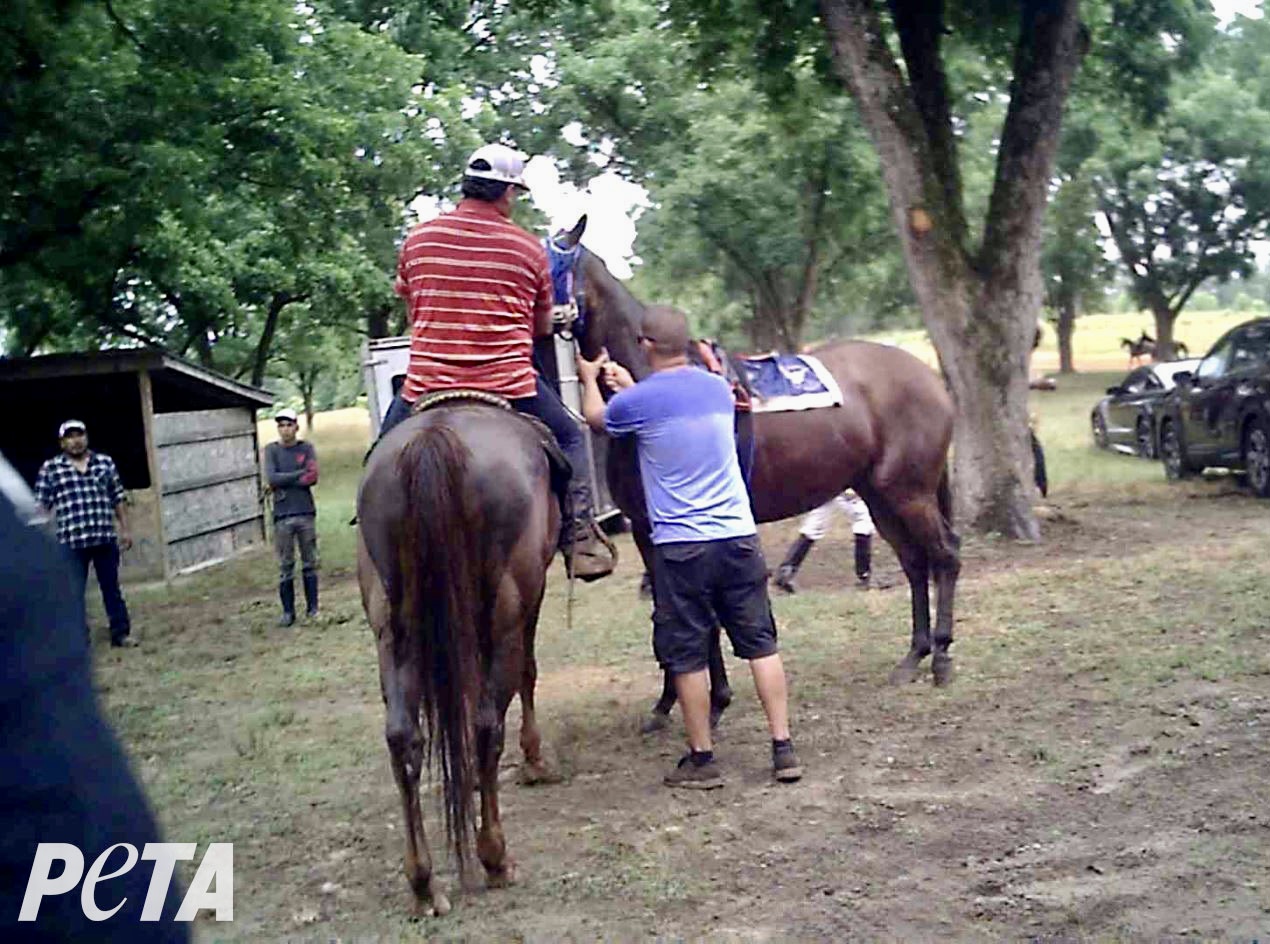 From

June 2021

through the end of spring

2022,

PETA investigators documented that hundreds of "match races"—in which two to six horses are forced to race 5 to 400 yards at breakneck speeds—were held at Rancho El Centenario in Milner, as well as at Rancho El Canelo in Dalton. They uncovered the following:
With no oversight from a state racing commission, horse doping runs rampant. PETA's investigators collected dozens of discarded syringes and/or needles used to inject horses shortly before races, and testing revealed that the syringes contained cocaine, methamphetamine, methylphenidate (Ritalin), and caffeine.

Jockeys whipped horses relentlessly—often 20 times in a row—and used electric shock devices (aka "buzzers" or chicharras), which would result in multi-year suspensions on mainstream tracks.

No veterinarians or ambulances were standing by. Numerous horses died, including both horses in one March 2022 race. One broke down catastrophically; staggered on a badly broken, dangling leg; and was shot in the head and then dragged down the track by a tractor. The "winning" horse—just 5 years old—died of a heart attack. Jockeys also incurred severe injuries, including infamous jockey Roman Chapa dying from injuries sustained from racing on the track.

Jockeys and owners often make more money in these black market races than they can at mainstream Quarter Horse tracks. Wads of cash changed hands in person, and the races were livestreamed on Facebook for remote wagers.

"These unregulated races are a free-for-all of drugging, whipping, electroshocking, and gambling—with horses doped with cocaine and meth and shot dead right on the track," said PETA Senior Vice President Kathy Guillermo. "PETA is calling for an immediate criminal investigation into this seedy underworld and for the closure of this track and others like it."
Sadly, Unsanctioned racetracks similar to Rancho El Centenario are known to operate in at least 28 other states.
PETA is sharing its findings with regulated tracks and state racing commissions and urging them to ban anyone who has been documented doping and/or electroshocking horses at underground races. This includes Everardo Rodriguez, the U.S. Quarter Horse jockey with the most wins in

2021, 

who also races at Rancho El Centenario and other bush tracks and has been photographed wearing shock devices and posing with a team member holding a syringe.
You can help stop this atrocity from continuing by urging the American Quarter Horse Association to ban any jockeys, trainers, or owners who are involved in these deadly races, HERE!