Photos by Direct Action Everywhere
On Sunday, the Stronach Group declared that it will halt racing activities at the

Golden Gate Fields (GGF)

horse racing track located in Berkeley and Albany, with the shutdown effective at the end of its 2023 racing meet. The horse-racing/wagering-based company claims this decision is part of a strategic plan to bolster racing at

Santa Anita Park

in

Southern California,

another track owned by the Stronach Group.
With almost 400 miles between the two racetracks, activists point out that the logic of Stronach's explanation is tenuous at best. For years, activists with the Berkeley-based animal rights network, Direct Action Everywhere (DxE), have utilized a wide range of tactics to advocate for the closure of this deadly horse racing track.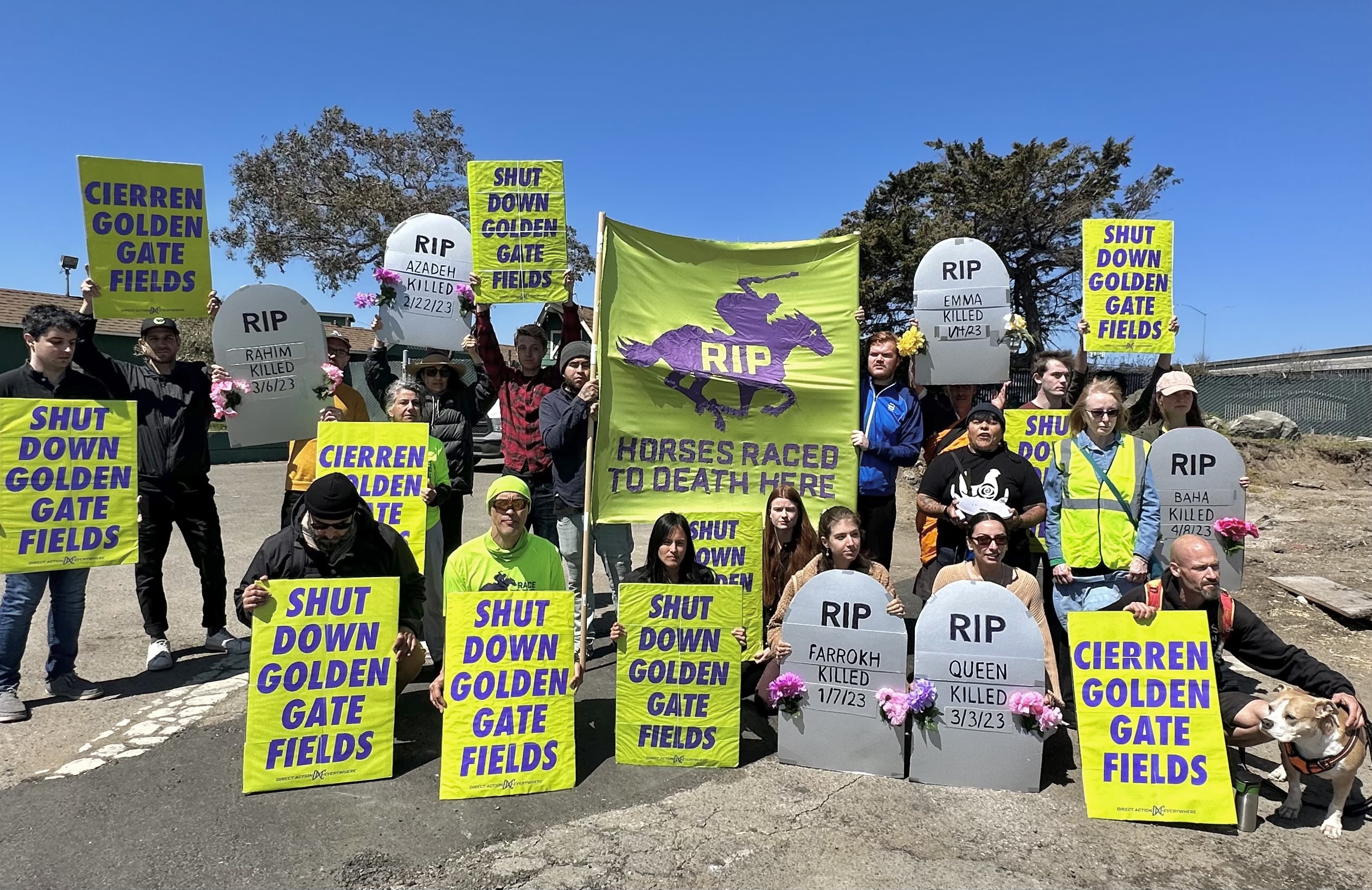 In 2021, four DxE activists chained themselves together across the track to raise awareness about the cruelty of horse racing, and stopped a horse race from occurring at GGF— which led to legal backlash from GGF that they are still battling.
Every time a horse dies at GGF, activists hold a memorial protest and call on residents of Berkeley and Albany to join them in demanding the track's permanent closure. Tragically, a total of

eight horses

were killed in the first half of 2023.
Residents and local politicians also recently took the policy route to combat GGF's animal cruelty. DxE is one of a number of groups working on a ballot initiative, launched last month, that would ban

Concentrated Animal Feeding Operations (CAFOs)

in Berkeley, including the GGF stables.
Moreover, last week, councilmember Kate Harrison introduced a Berkeley city ordinance to address horse cruelty at GGF, which was sponsored by the local advocacy group Stop Blood Sports. The ordinance would make it illegal for horses to be confined for more than 10 hours in a 24-hour period and stipulates that horses must have access to half an acre of untethered pasture to freely roam. It also restricts the use of pain-inflicting instruments, such as whips and bits, and prohibits the overuse of medication, in response to the industry's long history of doping horses.
"I grew up watching my dad fall prey to gambling addiction at horse abusing operations like Golden Gate Fields and I made it part of my animal advocacy to speak out against animal gambling specifically," said Rocky Chau, a DxE activist who was arrested during a protest on the GGF track in March of 2021 and is currently being sued by the company. "This closure is a win for horses and for vulnerable humans who are taken advantage of by the gambling industry."
GGF denies any influence of the activists on their decision, but DxE says such denials are typical from corporations and it is clear that protests played a role in bringing about this change.
Even though GGF is shutting down, DxE activists say that they will continue working on the Berkeley ballot initiative to ban CAFOs– to prevent another CAFO from moving in, in order to set a precedent as the first California city to ban factory farming, and as a cautionary move in case GGF changes course.
The Berkeley ordinance to address horse welfare was officially submitted in a city council meeting on

Tuesday,

July 11,

and the council plans to discuss it in early September.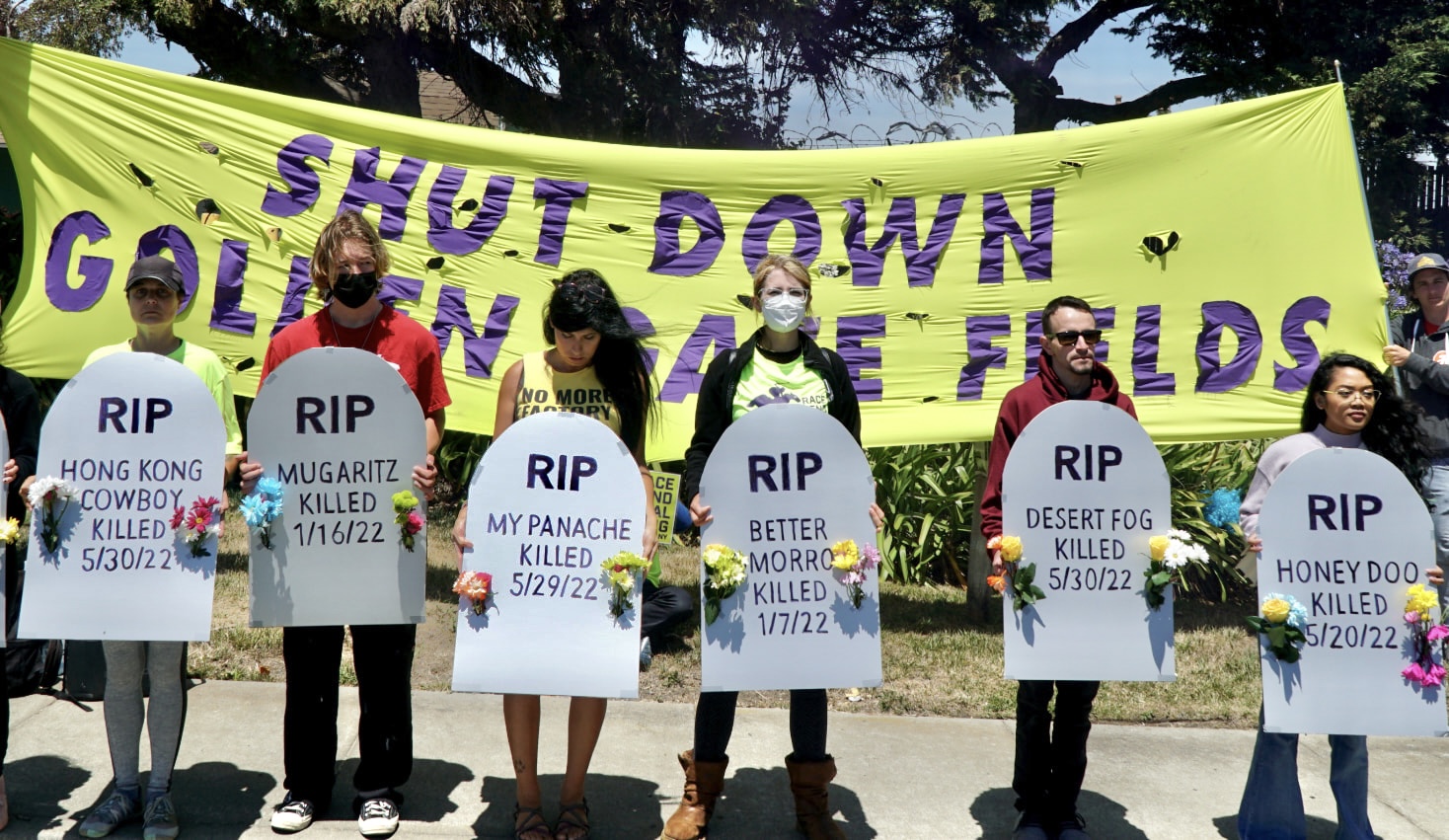 "Golden Gate Fields' abrupt closure only 5 days after our welfare ordinance was introduced shows they never had the ability to adequately care for the horses they confined there," said Samantha Faye, Lead Organizer of Stop Bloodsports. "They say they want to move their races down to Santa Anita- we will see them there."