Rafael Gutierrez-Galvan, 29, and his wife Deyanira Garza, 28, made their initial appearances in federal court in McAllen, Texas, on September 27th. According to the criminal complaint, Gutierrez-Galvan sold a margay cub on August 24th for

$7,500

in a local Academy Sports and Outdoors parking lot.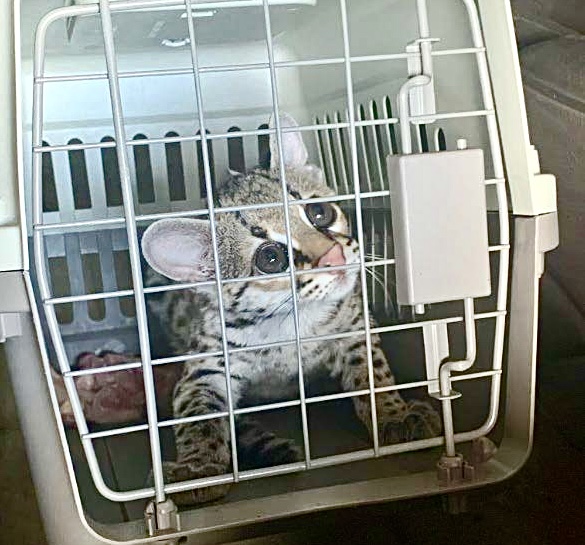 On September 26th, Gutierrez-Galvan then attempted to sell a jaguar cub to the same individual. He allegedly instructed his wife to bring cash from their residence to the location. However, law enforcement conducted a traffic stop before she could arrive and discovered the money.
Authorities thankfully recovered both wild animals.

The

Endangered Species Act prohibits the importation, exportation, sale, and transportation of threatened and endangered species. Jaguars are listed as an endangered species.
If convicted, Gutierrez-Galvan and Garza face up to five years in federal prison and a possible

$20,000

maximum fine.
"Thanks to the

Big Cat Public Safety Act

and federal wildlife protections, these imperiled animals have been spared from the dangerous and inhumane exotic pet trade," said Carson Barylak, policy campaign manager for International Fund for Animal Welfare (IFAW). "Through our rescue work, IFAW and our sanctuary partners have seen time and again how brutal a life captive big cats and other wild species face when left in unqualified hands. We applaud enforcement officials for reaching this important milestone to protect wildlife and people alike."
The Big Cat Public Safety Act was signed into law in late 2022, in a historic step toward safeguarding captive big cats nationwide. This measure prohibits the private ownership of tigers, lions, leopards, and other big cats as "pets," while also restricting dangerous contact between members of the public and these apex predators.
Prior to BCPSA's historic enactment, the U.S. trade in captive big cats was largely unregulated, making it impossible to know just how many of these animals were held captive in backyards, basements, and private menageries. Tigers, lions, and other big cats are often denied proper veterinary care, nutrition, enrichment, and space in such circumstances. The BCPSA has made captive wildlife and communities safer by reining in the deadly trade in these iconic species.
With only an estimated 173,000 jaguars remaining in the wild, they are considered near threatened by the

IUCN

and are listed as endangered under the U.S.
Endangered Species Act. E

ffective enforcement of the BCPSA will help to protect captive jaguars and other big cat species while safeguarding their wild counterparts.