As reported by WAN earlier this week, Beyond Meat announced that the company, along with their dedicated partners, are working to donate and distribute more than One Million Beyond Burgers and Meals as part of plant-based powerhouse's Feed A Million+ pledge.
"Our goal has always been to use food as a vehicle for change and we are fortunate to be in a position to put that into action now like never before," noted a statement from Beyond Meat. "Our hope is that this donation will help make lives easier and contribute to the strong sense of community that is so vitally important during these unprecedented times."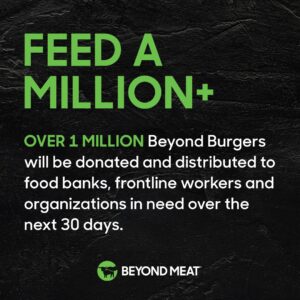 Comedian
Kevin Hart,

who announced last spring that he was exploring a plant-based diet, took to social media to share that he was sending Beyond Burgers to

Northridge Hospital Medical Center in California.
"I want to give a shout-out to my partners in crime over there at Beyond Meat. You guys are unbelievable, feeding over a million people right now through these crazy times is a must," Hart said in a video he posted on his Instagram page. "I love that you have stepped up and I want to do my part as your partner, I want to step-up as well."
Hart explained in the touching video that he was sending meals to the Northridge Hospital Medical Center because they were there for him "during his crazy time of need."
As part of their
Feed A Million+ pledge,

the Beyond Meat community is rallying together to give back via multiple channels. To reach those most affected and in need, the company has donated Beyond Meat products to food banks across the country, and is working with partners to prepare and deliver donated Beyond Meat meals to hospitals, community centers, and other frontline organizations.
You can help all animals and our planet by choosing compassion on your plate and in your glass. 

#GoVeg