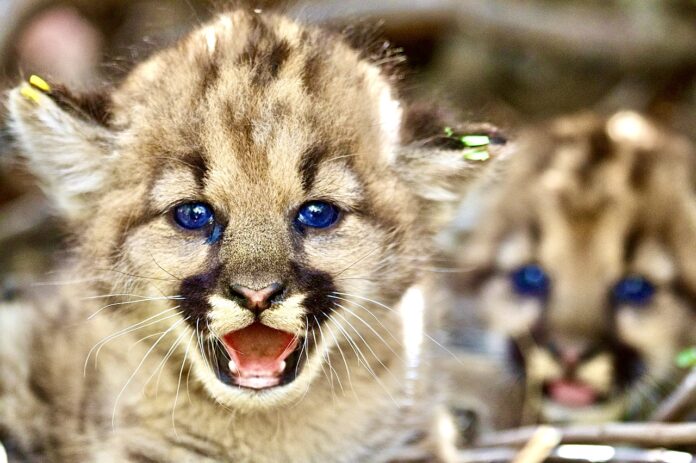 Photo from: Mountain Lion Foundation
Current protections under
California law

sadly could not save mountian lion P-56, the first mountian lion killed under California's sickening three strikes provision.
P-56 must not die in vain.
The deadline to submit letters of support to list mountain lions under the

California Endangered Species Act

is TODAY, April 2nd, by 5:00pm PST.
"Californians have a fierce defense and love for our mountain lions. They spark something primal in us, reminding us of our own past and survival. There is also a visceral combination of fear and respect for these elusive and iconic big cats," Debra Chase, CEO of the Mountain Lion Foundation told WAN. Since humans crossed the land bridge from Asia, they have been a part of our environment."
"Yet, despite bounty hunting, sport hunting, and human encroachment into their habitats, they have survived. But, their numbers have decreased dramatically," continued Chase who noted that with the exception of a few hundred living in Florida, mountain lions are now extinct east of the Mississippi, limiting their range to the western edge of North America. "Here in California, since Prop 117 passed in 1990, we continue to kill an average of at least 100 mountain lions each year with lethal depredation permits alone. As noted in our petition, this cannot continue. I believe we have a moral obligation to protect this keystone species: for us, our kids, grandkids, and for many generations to come."
The petition seeks protections for gravely imperiled mountian lions in Southern California and on the Central Coast including: the Eastern Peninsular Range, Santa Ana Mountains, San Bernardino Mountains, San Gabriel Mountains, Santa Monica Mountains, and north along the coast to the Santa Cruz Mountains.
Without these protections, California's mountian lion populations could disappear in little more than a decade. Startling predictions of extinction by researchers at
UC Davis, UCLA, and with the National Park Service

have shown that if inbreeding depression occurs, the Santa Ana population could go extinct within twelve years and the Santa Monica population within fifteen.
Habitat loss and fragmentation caused by freeways and urban sprawl have resulted in high levels of genetic isolation and human-caused mortality. These lion populations also suffer from dangerously low genetic diversity due to a lack of habitat connectivity that would allow them to intersperse. The animals are often killed trying to cross freeways, by poaching or in retaliation for preying on livestock, as was the sad case of P56. Others die excruciating deaths after consuming prey that have ingested toxic rodenticides. If any of these deaths are female mountian lions, there is a good chance kittens are being orphaned and may not survive without their mother.
"We now have hope that something good could come out of P56's death," stated Chase. "The people of California have spoken, they have a longing for change."
Use your voice TODAY to support this vital initiative to save California's last mountian lions by sending your letter of support. Please be sure to include your name and contact information and that you want the CESA petition to be approved as written.
Send your letters directly to the 

California Fish and Game Commission,

 

at

fgc@fgc.ca.gov
For those wanting to call in your support to the Commission, the phone numbers are (916) 653-4899 

or

(916) 653-7229.
Help us continue to bring you the latest breaking animal news from around the world and consider making a Donation Here! www.peace4animals.net/donate
Please share our articles, follow us on social media, and sign up for our newsletter! Go Plant-Based!
"One Person CAN Make A Difference"