Photo from Suffolk County Police Department
Animal advocates have long expressed their need to be the voice for the voiceless. While not always heard and seldomly recognized, a new breed of animal advocates has been emerging as of late, raising awareness about the plight of farmed animals and the horrors associated with factory-farming and slaughterhouses.
Cows are Intelligent and social beings with long memories, and are known to have the ability to make decisions that benefit other members of their group. Once in a while, cows and other farm animals manage to escape from slaughter, which occasionally draws the attention of mainstream media and is helping to expose the cruel slaughter industry.
As previously reported by WAN, such was the case when 41 terrified cows recently escaped from the Manning Beef slaughterhouse in Los Angeles, California; a powerful story that garnered worldwide attention.
Not long after, another brave cow, now named Barney, escaped religious sacrifice on the other side of the country. This bull, who weighs an estimated 1500 pounds, has been on the run for more than 10 days after escaping a facility in Long Island, on July 20th, just minutes before he was about to be killed.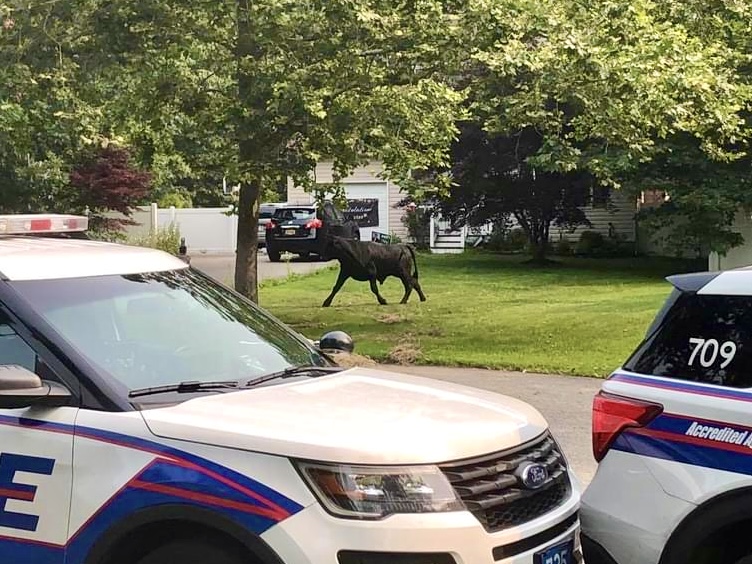 Photo from Suffolk County Police Department
WAN had the opportunity to talk with John Di Leonardo, President of Long Island Orchestrating for Nature (LION),

t

he first nonprofit organization that was alerted to the harrowing situation and was immediately requested to help by the S

uffolk County Police Department.
"He took the opportunity to run like the nearly 30 million cows who are killed every year would do as well if they had the same opportunity," Di Leonardo told WAN, who is instrumental in securing the bull's release to New Jersey-based Skylands Animal Sanctuary and Rescue once found. "We want this bull to be rewarded for his bravery and to have his story inspire people to help save the lives of hundreds of animals by keeping them off their plates."
Di Leonardo explained that unlike the recent situation in California, this lone cow escaped from imminent sacrificial slaughter in a rented stall of a former duck factory-farm-turned-wood-recycling-center. The stall was reportedly rented by a local mosque to hold dozens of farm animals that are brought in to be sacrificed during the Islamic holiday Eid al-Adha.
Photo of the dumpster behind the Eid sacrifice location from where the bull escaped. Courtesy of The Broken Antler, a wildlife search and rescue nonprofit that is also assisting in the case.
Di Leonardo is working overtime to establish and grow his own animal welfare nonprofit organization and sanctuary to be able to save the lives of many more farm animals.
"Not a traditional sanctuary," shared Di Leonardo, noting it will serve more as a transitional shelter, one that he is raising money to build once he secures the land. "I never want to fill up with animals. There are always more that need a safe refuge. We want to help save as many of them as we can and to provide temporary shelter for the rescued animals before they are placed in their new forever homes at reputable sanctuaries such as Skylands. Then, we want to inspire people with their stories, encouraging them to go vegan."
Di Leonardo recently worked as a senior manager at PETA for nine years, focusing on campaigns against using animals for entertainment, as well as promoting veganism. In fact, LION and PETA are teaming up to launch a new billboard "I'm Me, Not Meat" near where Barney escaped. It carries the message, "Help others escape the slaughterhouse: go vegan."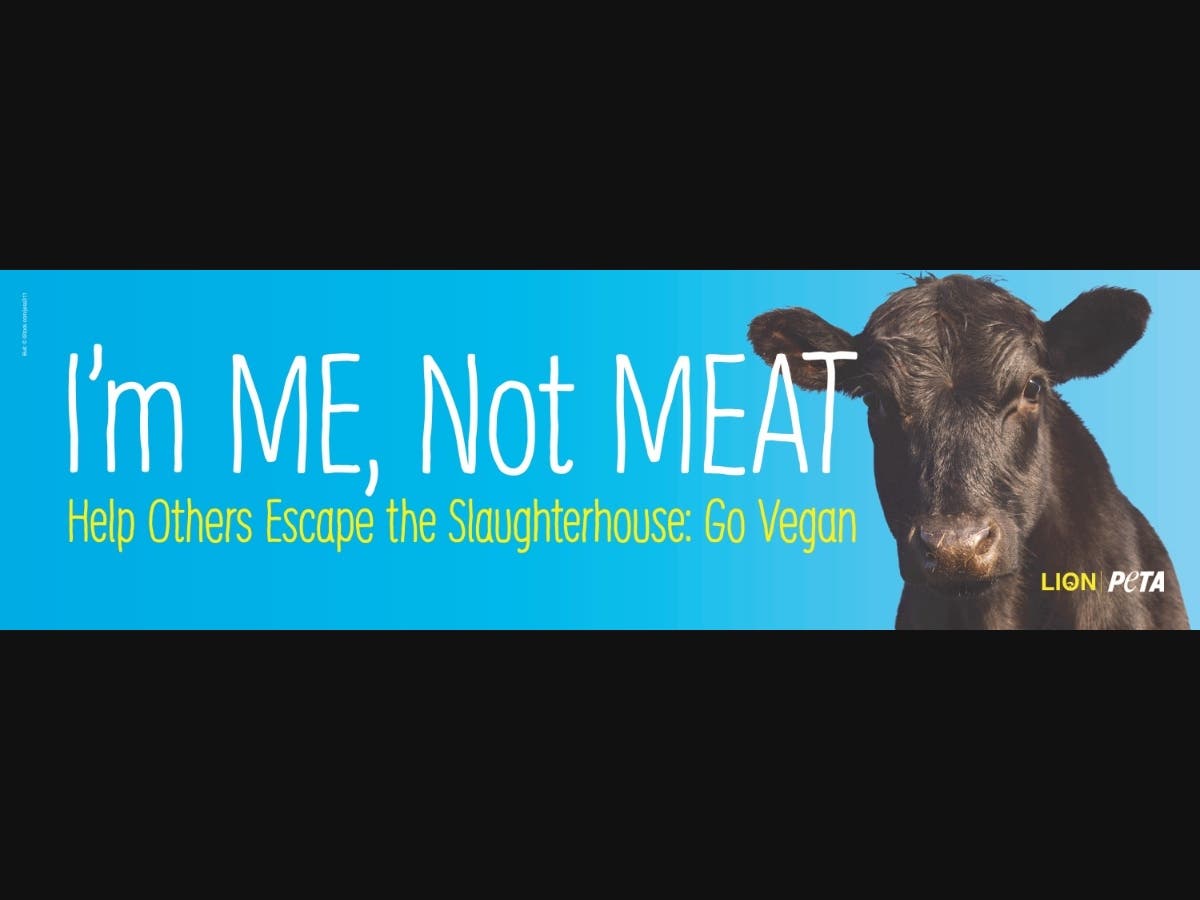 "My heart is in rescue, but my mind is in advocacy. This is a way to fulfill both," stated Di Leonardo, further explaining that he wants his organization and shelter to also serve as a resource and teaching center where people can be trained in advocacy.
Donations to help Long Island Orchestrating for Nature (LION)
continue to save and rescue animals in need, as well as to build their new sanctuary, 
can be made
HERE!
You can help all animals and our planet by choosing compassion on your plate and in your glass. 

#GoVeg