Photos from Amber Rose, Facebook page
While WAN often covers heartbreaking cases of sickening hunters senselessly killing innocent animals for nothing more than a "trophy" and an ego boost, the case currently unfolding in

Montana

is especially tragic. Unfathomably, it involves a husky puppy who a huntress allegedly "thought" was a wolf. The huntress, named Amber Rose Barnes, shockingly skinned the poor husky and posted pictures holding its dead body while bragging about it on social media.
In a post on Barnes' Facebook page, she states "So this morning I set out for a solo predator hunt for a fall black bear however I got the opportunity to take another predator wolf pup 2022 was a great feeling to text my man and say I just smoked a wolf pup. #firstwolf #onelesspredatorMT."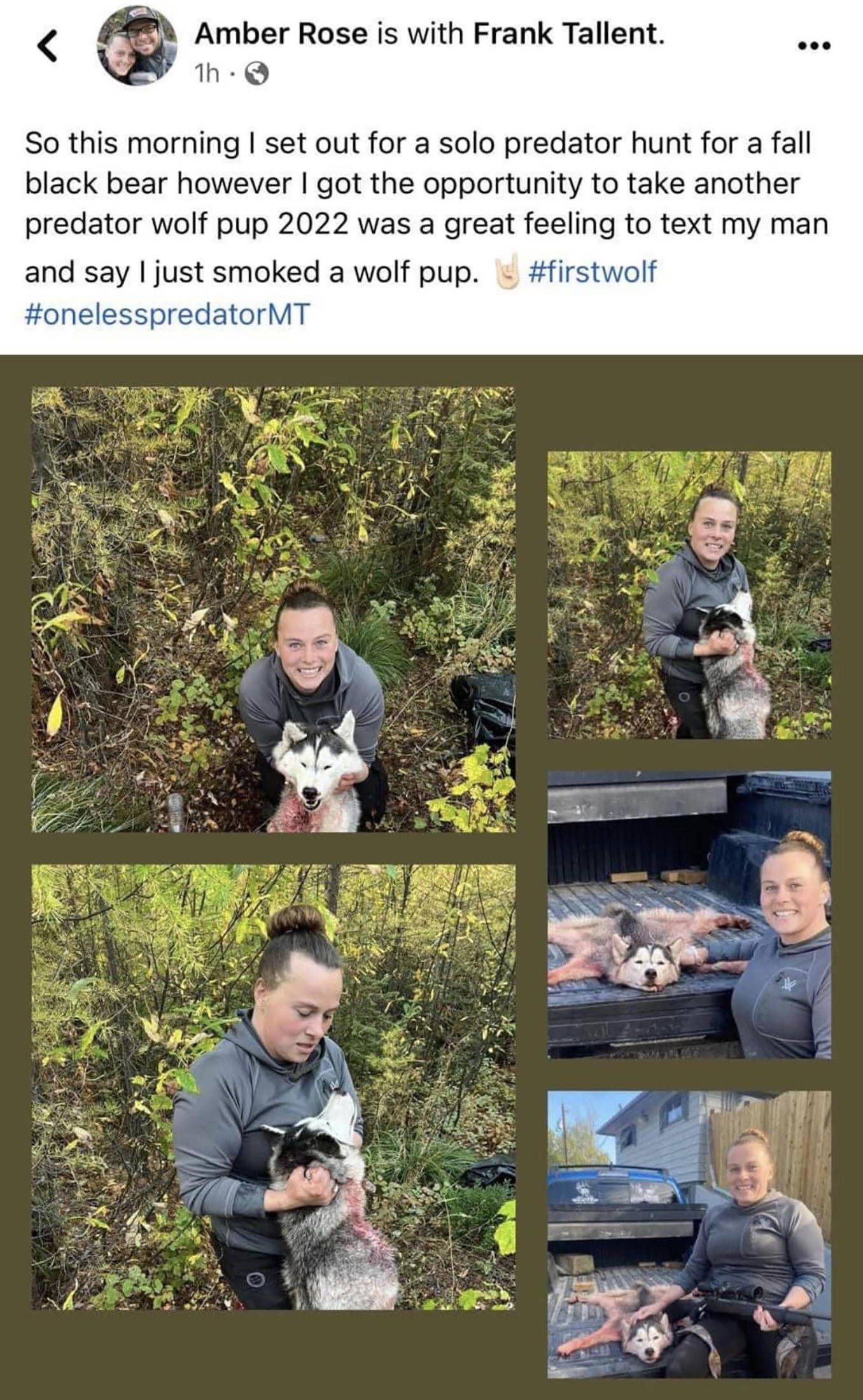 Greg Lemon, with the 
Communication and Education Division of

Montana Fish, Wildlife, and Parks

explained

to WAN that the deceased "

animal was identified as a domestic dog by FWP."
"At that point, the primary investigation was handed over to the Flathead County Sheriff's office, since it was not a wildlife issue," continued Lemon. "Montana Fish, Wildlife, and Parks is looking into any potential licensing violations, but that investigation is ongoing."
When WAN contacted Flathead County Sheriff's Office for

an update this morning, a member of their staff stated that the department is also investigating but could not yet comment on the case. She did, however, share a statement that on 

September 23rd, the Flathead County Sheriff's Office was contacted by local citizens who had picked up several husky and shepherd mix dogs in the area of Doris Creek in the Flathead National Forest.
As per the statement, the parties were able to rescue 11 dogs who they turned over to Animal Control, which later located several other dogs in the area which were also taken to the animal shelter.
"During this investigation, we were advised through Montana Fish, Wildlife, and Parks that one of the dogs may have been shot," noted the Sheriff's Office, which further confirmed that the person who is believed to have shot the dog has been identified.
Once the horrific news began to spread about Barnes' post, she began to backtrack stating that she thought the dog was a vicious wolf and was in fear for her life. While Barnes reportedly conceded to making a "mistake," she said that despite knowing what she knows now, she still would have killed the dog.
"What is shocking about this story isn't just that she killed and skinned a dog, it's that she posted the story expecting this to be celebrated," 
Leslie Williams, co-founder of the #RelistWolves Campaign and
RelistWolves.org
 told WAN. "
There is an entire sub-culture of radical wolf haters in the Northern Rockies, and sadly, those states' laws allow them to hunt without any regard for ethical norms."
#RelistWolves is a campaign launched by a coalition of NGO's, scientists, concerned citizens, and political campaign strategists, that aims to ensure that all wolves in the United States are protected under the Endangered Species Act.
Please take action by asking your representatives to put pressure on Deb Haaland and President Biden to #RelistWolves, HERE!
Anyone with information pertaining to the investigation of the killing of this poor husky puppy should email tips to

tips@flathead.mt.gov.
You can help all animals and our planet by choosing compassion on your plate and in your glass. 

#GoVeg