Photos from IFAW
Four dolphins were released back into the wild last week in

Provincetown, 

MA

,

following 24-hours of tracking along the coast and eventual stranding in

Wellfleet Harbor.

They were rescued in a highly coordinated response effort and released back to deeper waters, thanks to expert staff and volunteers with IFAW (the International Fund for Animal Welfare).
IFAW received the first report of several animals close to shore off Provincetown last Wednesday afternoon. One dolphin stranded but was unfortunately pushed off by bystanders. Further human interference on land and by boat led to increased stress for the animals before responders could arrive. The team spotted the dolphins swimming farther offshore in Truro later the same day, but the tide was incoming and IFAW staff and volunteers monitored them from a distance until sunset.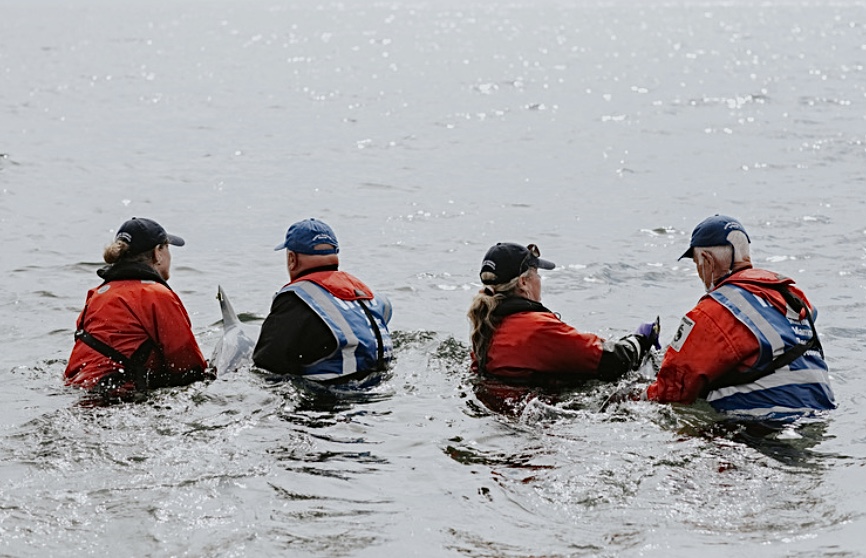 "By morning light on Thursday, volunteer responders identified four common dolphins swimming near the Wellfleet Pier, and we knew something had to be done," said Brian Sharp, IFAW's Director of Marine Mammal Rescue & Research. "We were concerned by the animals' behavior, the dropping tide, and given our previous experience with summer boat traffic and heat. In consultation with NOAA, we made the decision to herd the dolphins closer to shore for the best chance of a successful rescue."
The dolphins were carefully coaxed toward shallow water and away from a dangerous stranding area known as Chipman's Cove so that they could be stretchered. An expert-only endeavor, herding of the dolphins took place quickly and with minimal stress to the animals. This resulted in a successful rescue, calling on the skilled maneuvers of IFAW's boat, a Wellfleet Harbormaster vessel, and additional staff in kayaks.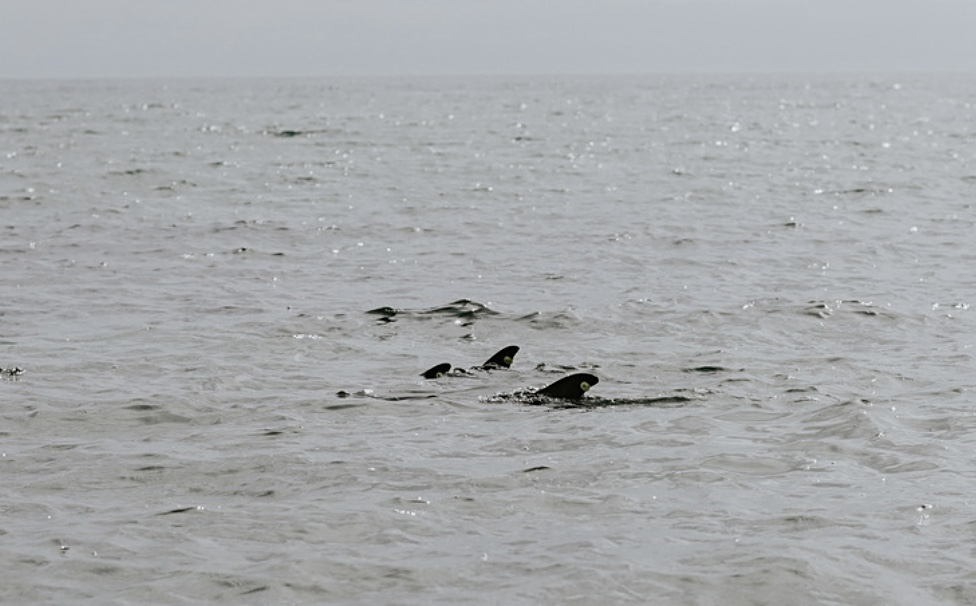 All four dolphins were transported to a deeper water release site off Provincetown, traveling in IFAW's mobile dolphin rescue clinic. This one-of-a-kind vehicle was custom designed to meet the needs of what is considered a global stranding hotspot on Cape Cod. The vehicle enables IFAW veterinarians and experts to perform health assessments and stabilize the dolphins while quickly reaching the best site for release.
Thankfully, the dolphins were successfully released as a pod and swam off closely together.
You can help all animals and our planet by choosing compassion on your plate and in your glass. 

#GoVeg