Photos By: Dio Dieudonne
Yesterday, Conserv Congo, in collaboration with Lwiro Primates Sanctuary 

and

Bonobo Aid, rescued an adult chimpanzee who had been illegally held captive for nearly

25 years

by a family in

Bunia, Ituri

. 
The national police and the Ministry of Environment

assisted the groups with the rescue of the 

chimpanzee

 

named Tarzan, who was found
 

chained to a truck engine block earlier 

this year 

by one of Conserv Congo's investigators.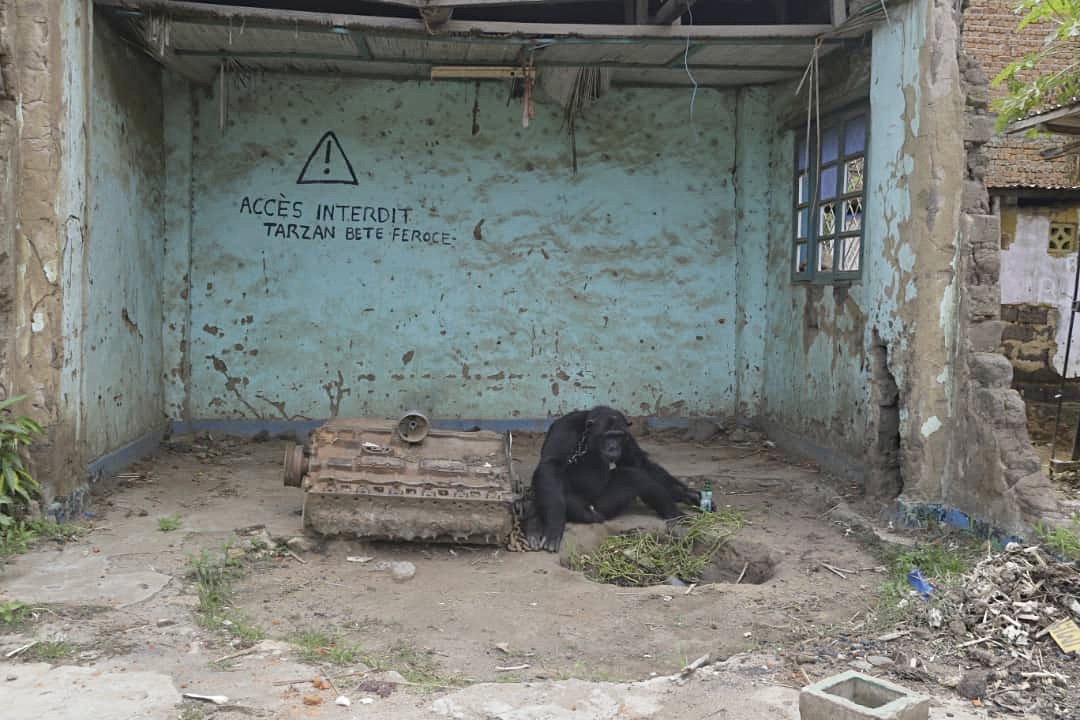 Tarzan was an infant when the family purchased him in the 1990's. He spent his young life being used as a prop for tourists to
 take selfies with for $10 a photo.
As he grew older and became more aggressive, the family shockingly tried to calm Tarzan down by giving him alcohol and cigarettes, to which he became addicted. Sickening!

Then, deemed "useless," the tortured animal was left in filth, chained in a half built structure with writing on the wall that read, "Beware of Tarzan, the ferocious beast."
Tarzan, who is currently on his way to Goma and then to Bukavu, where he will be placed at Lwiro Primates sanctuary, 
had previously lived in the area for so long that he was known by everyone and had become some what of a "mascot" for the neighborhood. During the negotiations to rescue Tarzan, which took about two days, the entire neighborhood arrived in a mob, refusing to let Tarzan be taken away. They somehow believed they loved him, although it was clear they did not by allowing him to suffer for this long.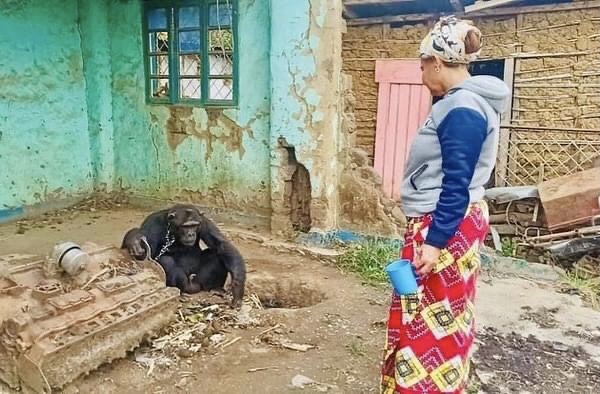 Conserv Congo quickly rallied their team of negotiators and after 48 hours, Tarzan was finally released to the organization.
"You must understand, this is the first time that 
Conserv Congo has rescued 
a chimp of this age and size. We had fear and excitement at the same time during the rescue, but eventually we saved this poor soul," Adams Cassinga, Founding Director for Conserv Congo told WAN. "Even though he lived half of his life in chains, he can now be free and wild with his own kind at the sanctuary."

Ituri, the province in which he was rescued from, has been in a state of siege for a week, and the war is still ongoing. Thankfully, the respective teams made up of veterinarians, investigators, police, and government inspectors, were still able to move forward with Tarzan's rescue.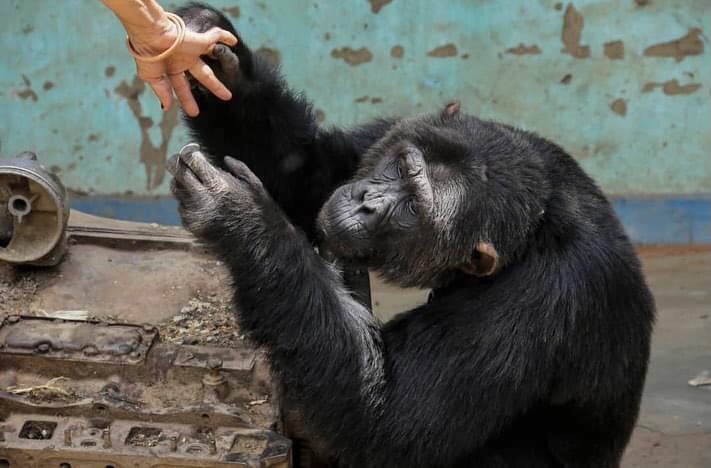 "I am just worried about his future due to the trauma that he has endured and the many substances he has consumed. However, we know the sanctuary where he is headed to and they will try their best to right the wrong of his past," continued Cassinga. "One thing is for sure, deep down Tarzan is grateful to us for his freedom and life. In our work, there is no reward greater than that!"
While relieved that Tarzan has been rescued, there are tragically countless other chimpanzees that continue to suffer at the hands of wildlife traffickers throughout Africa.
Please consider making a donation to

Conserv Congo

to help them in their efforts to protect and save wildlife in the Democratic Republic of Congo, HERE!
You can also donate to Bonobo Aid HERE!
As well as

Lwiro

Primates Sanctuary HERE!
You can help all animals and our planet by choosing compassion on your plate and in your glass. 

#GoVeg