Tragically,

455 of America's wild horses

recently became the latest victims unfairly targeted by helicopters during yet another controversial Bureau of Land Management (BLM) roundup under the guise of 'herd management.'
Not surprisingly, little information about this travesty, which took place between December 5th and December 18th within and outside of the herd areas located in Lincoln County, Nevada, has been shared publicly.
According to James Kleinert, who has dedicated his life to saving America's wild horses and has also produced several award-winning documentaries about their plight, the lack of information by the BLM is intentional.
WAN had the opportunity to talk with Kleinert about his decades-long career advocating for wild horses as the oil, gas, mining, and cattle industries continue to take away their legal and environmental protections. This is one of the many issues Kleinert addresses in his latest documentary series, 

Mustangs & Renegades.
"I never intended it to be a political film, but there are all kinds of corruption at the BLM," Kleinert told WAN, sadly sharing that the BLM only adopts a small percentage of the captured horses after they are savagely ripped away from their families during these brutal roundups. The majority of the wild horses are sent to what Kleinert refers to as "long-term camps" or shipped to Mexico and Canada for slaughter.
As noted by Kleinert, the BLM, which makes it especially challenging to record what goes on during one of these roundups, lies about the number of horses on a range, the appropriate management levels, and the reasons why the 'excess' horses need to be removed.
A statement released by the BLM regarding the December roundup in Nevada, claimed that, among other reasons, the wild horses were gathered because of a lack of food and water.
"If the horses on the land get sick or die after drinking polluted water, an alarm is set off which the BLM does not want to happen." said Kleinert, explaining why former BLM Director Jim Baca, who Kleinert interviewed, called horses an indicator species.
The BLM also reportedly lets the public know about these so-called "emergency roundups" at the last minute, so that little to nothing can be done to protect the horses from them.
Kleinert's film exposes the truth about what really happens to America's wild horses, the truth which hurts the BLM's public image. "The BLM seems to think that, if they can stop the filming, then…problem solved. If there's no documentation of the violence, then the BLM can plausibly deny that it ever happened."
"This is also about something much bigger, the complete devastation of our environment by industries, and ultimately people, who are making a living by exploiting wild horses," stated Kleinert, who filed a lawsuit in 2015 regarding public records and legal proceedings with the Bureau of Land Management. Since the history-making judgement in 2016, Kleinert v. BLM can now be used by any citizen seeking information per the Freedom of Information Act FOIA.
"We are living out of balance and have to start living sustainably," concluded Kleinert. whose documentaries serve as tremendous educational and awareness pieces about the plight of wild horses, burros, and the environment.
If you would like to watch the new film Mustangs & Renegades, CLICK HERE!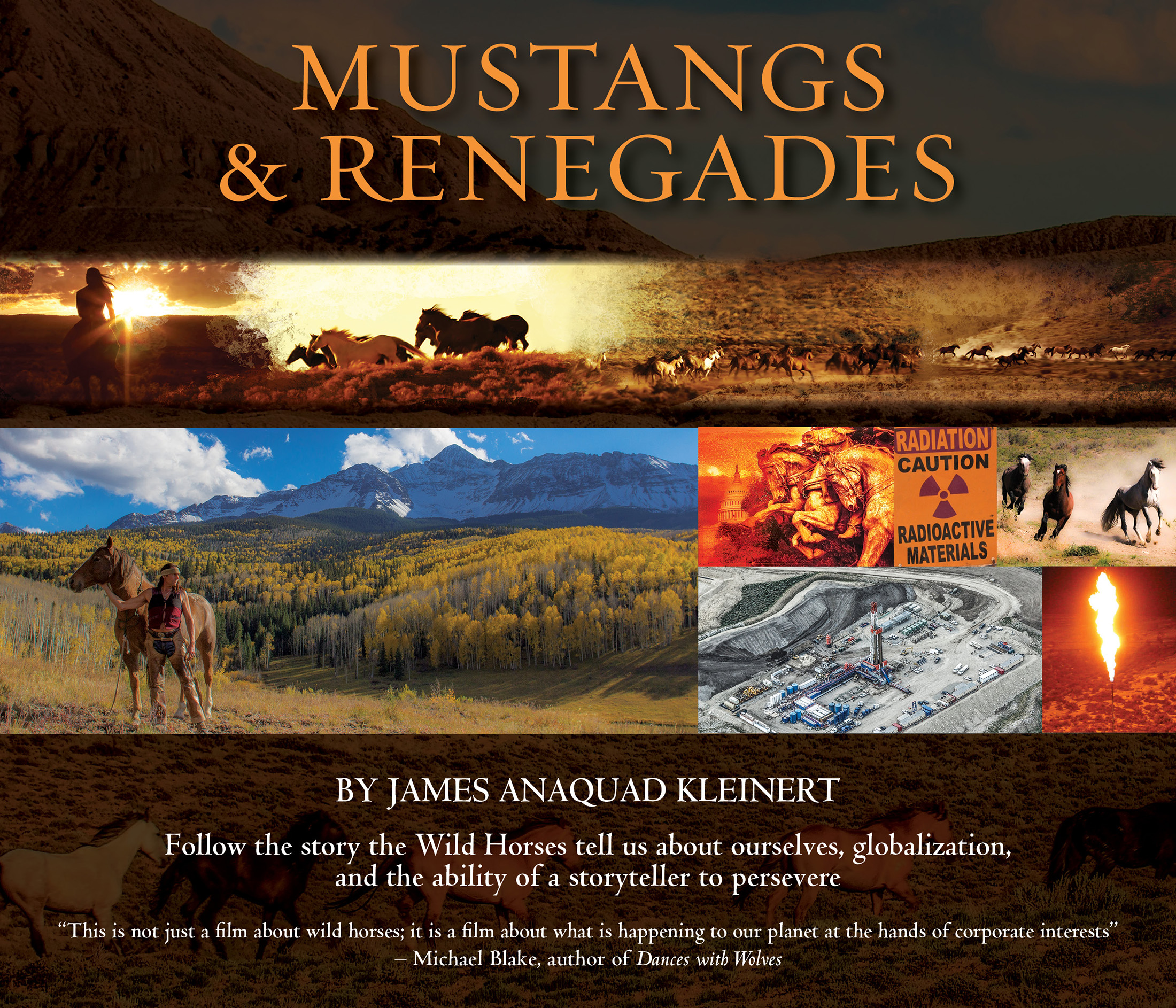 Call to action to Save America's Wild Horses, HERE!
Please urge President Trump to stop the brutal campaign against

America's Wild Horses

and 

place a moratorium on all Wild Horse & Burro roundups. 

Call the

White House

at (202) 456-1111. 
To help support James and his mission, please consider making a donation

HERE!